'Underground' Preview: Worlds Collide as Cato Makes a Bold Move, and Noah and Rosalee Head North
The game is afoot, indeed.
In Wednesday's penultimate episode of Underground Season 2, "Citizen," there's a Cato-shaped rat in Georgia's safe house—but is he a pawn in Patty Cannon's game or master of his own fate? Either way, there's someone else in its hallways who's had plenty of practice figuring who can and can't be trusted. And she introduces herself to the newcomer as … Minty.
"If you put it in religious terms, it's God and the devil," Alano Miller, who plays the twisty Cato, told TV Insider of his character's current mindset. "It's the constant fight of flesh, our desires. The things that make us weak—or the things that we perceive make us weak. We needed to watch him go through that on television and he failed in glorious fashion—but he also is succeeding in different ways, as we'll find out."
See Also
'The game is afoot — now it's about the relationship between him and Patty Cannon,' says 'Underground' star Alano Miller of his battle of wits with Sadie Stratton's notorious slave trader. 'He baits her and we'll see if she really bites or if she's playing along.'
Meanwhile, an already simmering Elizabeth is pushed to bold new levels of action (the ep also features a bracing conversation between her and Cato). With the Macon plantation in ashes, Rosalee, Noah and smartypants James (fear not, that platter-tastic bonk on the head left him no worse for wear) begin their journey northward (check out our exclusive clip below)—but are they really a united front? Daniel makes a bold decision to keep his own family together. And Minty fans rejoice—Aisha Hinds' Harriet Tubman gives another utterly rending soliloquy, then reminds Noah that ending slavery is not for the faint of heart. All of which set up a barnburner of a season finale.
RELATED: Sign Up For TV Insider's Underground Newsletter
"It's going to get really good, really quickly," Miller promises. "It's a lot of confusion, a lot of chaos and then all of a sudden we'll get down to the nitty gritty—and unfortunately some will make it and some won't.
"Oh, and Cato will finally make a definitive decision about who he is by the end," Miller teases. "Either you're going to root for it or you're not. Some people are going to say, 'No!' and some people are going to be, like, 'Yes!' You just don't know!"
Underground, Wednesdays, 10/9c, WGN America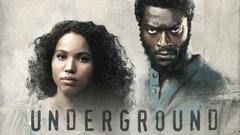 Powered by