Ask Matt: 'Handmaid's Tale' and Peak TV, '13 Reasons Why,' a Cybill-Christine Reunion (Not!), a Reduced '24' and More
Welcome to the Q&A with TV critic (also known to some TV fans as their "TV therapist") Matt Roush, who'll address whatever you love, loathe, are confused or frustrated or thrilled by in today's vast TV landscape. One caution: This is a spoiler-free zone, so we won't be addressing upcoming storylines here unless it's already common knowledge. Please send your questions and comments to [email protected] (or use the form at the end of the column) and follow me on Twitter. Look for Ask Matt columns on most Tuesdays and Fridays.
Handmaid's Tale Is Great, But Are There Too Many Streaming Services?
Question: First off, WOW! The Handmaid's Tale is a really terrific adaptation of one of my favorite pieces of literature. And it was especially chilling seeing the flashbacks in episode 3. Please tell me the quality persists through the whole series.
Also, a year or two ago, a TV exec infamously said he thought there was too much TV right now. He was given a hard time for the sentiment, but I am now seeing his point. We have HBO and Showtime, other premium and basic channels so we can see Bates Motel and Fargo, and now we have Hulu [among other streaming services]. And with the Star Trek franchise to have a new show on another streaming service [CBS All Access] and the newly announced DC Comics streaming servicenewly announced DC Comics streaming service … well, let's just say the entertainment dollar only goes so far. It seems licensing deals/partnerships in already established services may be better—for the consumer at least. What do you think? – Andrew
Matt Roush: Keep checking out my What's On columns at tvinsider.com on Wednesdays, as I'll try to monitor the quality of the remaining episodes as best I can. (Hulu just made a few more episodes available beyond the three that launched at premiere, but I haven't had a chance to get to them yet as of this writing.) Like you, I was very favorably impressed by this version of the Margaret Atwood classic, and I would be surprised if it doesn't sustain at least through this first season. Elisabeth Moss is a marvel.
And you make an interesting point about this era that many are dubbing "peak TV," because not only are there so many shows to track on so many platforms that one can't help wondering how anything breaks through anymore, but we may also be approaching a possible tipping point for subscription streaming services. Even those who cut the cord on cable will find the costs escalating with monthly or annual payouts to Netflix, Amazon, Hulu, and the rest. I lost count of how many letters I got from Good Wife fans unhappy, and mostly unwilling, at the thought of having to subscribe to CBS All Access just to watch the spinoff, terrific as it was. For now, these services are the industry's shiny new toy—everyone wants one, and they're getting more niche all the time—and the consumer's the guinea pig either losing out, or shelling out, in the short term.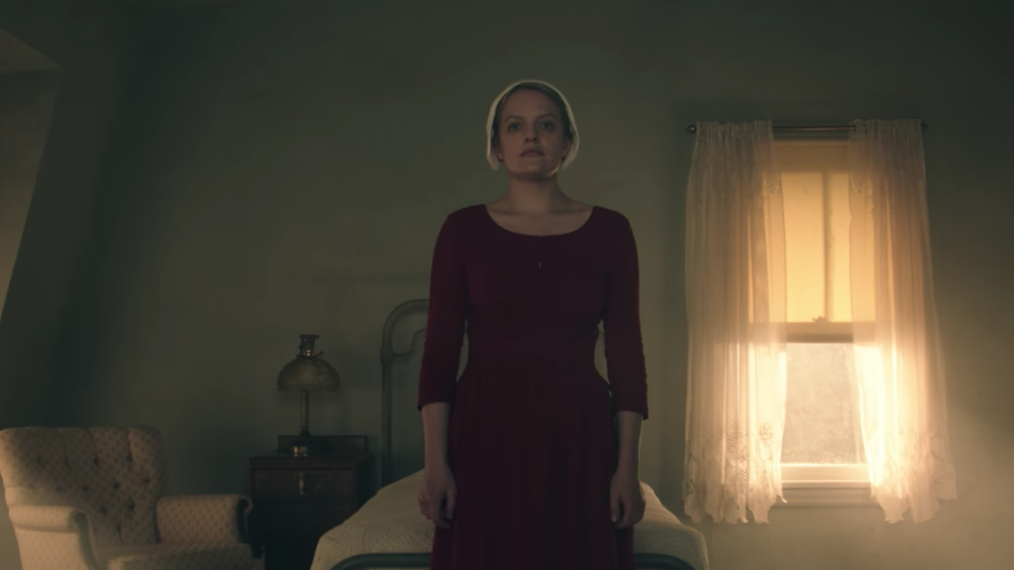 See Also
The book, the podcasts and other ways to delve into Margaret Atwood's classic story while waiting for the next episode of Hulu's dystopian series.
Can 13 Reasons Why Make a Difference?
Question: Long-time reader, first time reaching out. I finished watching 13 Reasons Why last week and it is still sitting with me. I thought it was thought-provoking and left me wondering how we could try to make a difference in the school systems and let anyone know there is always help out there. Regarding the cast, I was blown away by the talent throughout the whole ensemble. Do you think any of the kids have a shot at being nominated for an Emmy, primarily Dylan Minnette and Katherine Langford. Who's the youngest person ever nominated for an Emmy? – Carlos
Matt Roush: This is probably Netflix's noisiest show since Stranger Things, which I found "compulsively gripping," and I'm fairly confident the Emmy voters will pay attention, although young actors often come up short when it comes to nominations. And it's unclear if the current debate among school psychologists, counselors and mental health professionals over whether the series glamorizes teen suicide will hurt or help the show getting awards attention. The way 13 Reasons Why deals so frankly with hot-button issues like sexual assault and bullying is laudable, and if it starts a dialogue among students and teachers and parents, that would be a positive result. If this had aired on network or cable TV, it almost certainly would have included an advisory or public-service announcement that might have appeased its critics.
I can't say with authority who is the youngest Emmy nominee (and I'm talking only the prime-time awards, not daytime, where there's a whole category for younger actors), but the youngest prime-time Emmy winner was Roxana Zal, who was 14 when she won in 1984 for supporting actress in a TV-movie for Something About Amelia. And The Wonder Years' Fred Savage was 13 when he was nominated as lead comedy actor for the beloved series' first season in 1989.
See Also
What has fan reaction been like for the star of Netflix's most social show ever? He fills us in.
A Reunion We'd Like to See
Question: I've been watching the old Cybill show and love the chemistry between Cybill Shepherd and Christine Baranski. If Jane Fonda and Lily Tomlin can pull off a series in their age bracket with Grace and Frankie, do you think those former co-stars might consider doing something together? – Shulamith
Matt Roush: Maybe when hell freezes over. Or maybe if a future season of FX's Feud wants to go there. It's fair to say, without descending to the level of a gossip column, that the Cybill set wasn't among the most cordial in the annals of sitcoms, with much speculation that the title star wasn't thrilled to see her co-star get so many accolades and awards out of the gate. In this time of TV sitcom reunions, with Will & Grace and Roseanne the most recent—in both cases, better off if they just ignore the way the originals ended—would I love to see what Cybill and Maryann are up to these days? Yes, indeed. But Christine Baranski seems quite content continuing as Diane Lockhart on The Good Fight and I don't see a Cybill reunion in her future.
Why Is Indoors on the Move?
Question: Why does CBS keep scheduling new episodes of The Great Indoors on Monday nights? They did it before the first time back in March after an episode of Superior Donuts, and their ratings in that time slot were lower than their regular time slot on Thursdays! And CBS is doing it again this week, placing a new episode of Indoors after Donuts on Monday! Why does CBS keep doing this to Indoors when its ratings performs better after The Big Bang Theory on Thursdays? Is it because Indoors doesn't receive much ratings retention after Big Bang, and the network is trying the show out at a different time slot on a different night? Broadcast networks should never mess with their shows like that! – Chris
Matt Roush: Monday at 9:30/8:30c is officially The Great Indoors' new time period—at least for the final two episodes of its first season. (The season finale airs May 8.) And it's probably an accurate assessment that CBS would rather run back-to-back episodes of Big Bang on Thursdays (the second being a repeat) for the final weeks of its run than saddle it with an undistinguished underperformer like Indoors. The first Monday airing of Indoors last month came after several weeks of NCAA pre-emptions, and might have been either a tryout on Monday or an attempt to burn off an extra episode so it could end its run early. Either way, I'd be surprised to see this back on CBS's lineup in the fall.
The New 24: Who's Counting?
Question: What was that joke they called 24: Legacy? The original was 24 episodes. This was a slap in the face and told viewers they are no longer worthy of 24 episodes. Why not call it what it was—a 24 ripoff. — Mike
Matt Roush: Whether you liked the new version of 24 or not—I had mixed feelings by the end—the franchise had already been moving toward a shorter cycle. By the time the original series ended its run after eight seasons in 2010, the producers had conceded it was next to impossible to sustain a full 24-episode run with escalating cliffhangers and peril—and injuries to the relentless Jack Bauer—all within the same day. Even the show's champions (I was among them) had to agree. So when 24 returned four years later for Kiefer Sutherland's swan song (for now) as Jack Bauer, it ran only 12 hours, the format which the Legacy sequel adopted as well. I doubt you'll ever see a 24-hour season of 24 again.
See Also
Executive producers Manny Coto and Evan Katz break down the Season 1 finale.
Laughing With, Not at, CNN
Question: Following up on the CNN original series The History of Comedy. There was a lot of news breaking when the episodes first started airing (this was addressed by you earlier), so they were pre-empted, but after three of the eight scheduled episodes aired they never aired the remaining episodes. I feel it's a rude treatment of the viewer. Any update on if the remaining episodes will ever air? — Walter W
Matt Roush: I'm told the series will be relaunched in July and the remaining five episodes will air at that time. More summer TV fun!
What of the Homeless Spotless?
Question: What's going to happen to the show Spotless now that Esquire is no longer a network? The show was renewed by Esquire for a second season, so what channel will that season now air on? – Jay
Matt Roush: Unclear at this point. It's still an unusual circumstance when a network folds, leaving ongoing series temporarily without a home. As Esquire Network heads into a digital-only existence, it's not known (at least not to me yet) whether an overseas acquisition like Spotless will move with it. A show like Spotless could migrate to another of NBCUniversal's cable channels, or could be picked up elsewhere. I wouldn't lose hope. Using the defunct Pivot network as an example, its breakout comedy Please Like Me was rescued by Hulu, which currently streams its fourth season, and the second season of the chilly mystery series Fortitude ended up on Amazon.
[Addendum to last Friday's question about black-ish ending its season a week early. If I'd checked my calendar, I'd have realized/remembered that ABC is using that time period May 17 to launch the summer sitcom Downward Dog with a preview following the season finale of Modern Family, before moving to Tuesdays the following week into the summer.]
That's all for now. We'll pick up the conversation again soon. Thanks as always for reading, and remember that I can't do this without your participation, so please keep sending questions and comments about TV to [email protected] or shoot me a line on Twitter (@TVGMMattRoush), and you can also submit questions via the handy form below.