Bravo Announces New Bethenny Frankel Series, Renews 5 'Real Housewives' Franchises
Despite hits like Imposters and Odd Mom Out, reality still reigns supreme at Bravo. The cable network announced Thursday the renewal of 18 unscripted series and the addition of six new series.
The Real Housewives of Orange County and Shahs of Sunset will premiere this summer, followed later in the year by new seasons of The Real Housewives of New Jersey, Flipping Out, Don't Be Tardy, Married to Medicine, Below Deck, Million Dollar Listing Los Angeles, The Real Housewives of Atlanta, The Real Housewives of Beverly Hills, The Real Housewives of Dallas, Inside the Actor's Studio, Summer House, and Vanderpump Rules.
Real Housewives of New York City standout Bethenny Frankel and Million Dollar Listing New York realtor Fredrik Eklund are getting their own show—Bethenny and Fredrik Property Project (working title), which will follow the duo's real estate adventures.
See Also
'The Real Housewives of Beverly Hills' has never seen a reunion moment more awkward than Bunnygate. The 90210 OG fills us in on what really went down.
"Our fans look to us for a very unique brand of top quality unscripted content they simply cannot get anywhere else," said Jerry Leo, Executive Vice President, Program Strategy, Lifestyle Networks and Production Bravo. "With many established franchises showing strong ratings growth, we're able to explore new frontiers, and we believe these new series are really going to resonate with our audience."
More details on the new unscripted Bravo series below:
Bethenny and Fredrik Property Project (Working Title)
Produced by Leftfield Pictures and B Real Productions with Brent Montgomery, Bethenny Frankel, David George, Jordana Hochman, Will Nothacker, Jason Hollis, and Fredrik Eklund serving as Executive Producers.
This new series follows two fan favorite powerhouses, Bethenny Frankel and Fredrik Eklund, as they come together in their new venture as real estate moguls and business partners. Viewers will watch as they tackle the ups and downs of scouting, buying and designing multimillion-dollar properties. The series shows a side of Bethenny and Fredrik, often through their humorous dynamic, that fans have never seen before as they make big flipping gambles in the hopes of even bigger payouts.
Sell it Like Serhant
Produced by World of Wonder with Randy Barbato, Fenton Bailey, Tom Campbell and Danielle King serving as Executive Producers along with Ryan Serhant and Rob Bola as Co-Executive Producers.
It doesn't matter what you're selling–if you know your client and your product, a good salesman can sell anything to anyone. No one exemplifies this better than the leader of one of the top real estate teams in the U.S., Ryan Serhant ("Million Dollar Listing New York"). In this new series, Ryan puts his sales skills to the ultimate test when he answers the call of struggling sales representatives, desperate for his expertise. While Ryan learns the tricks of a particular trade, he will also give under-performing employees a head-to-toe business overhaul and turn them into sales machines.
Relationshep
Produced by Haymaker Productions with Aaron Rothman, Irad Eyal, Kate Fisher and Michael Meinecke serving as Executive Producers. Sarah Steinfeld serves as Co-Executive Producer.
This new series follows Charleston's most eligible and loveable singleton, Shep Rose, as he ventures to various cities across the country in the hopes of finding true love and a committed relationship. Shep is a complicated bachelor, and the right match will have to effortlessly fit into his particular lifestyle which ranges from black tie galas to surfing with him in Costa Rica. As Shep leaves Charleston to look for "the one," he calls upon his friends in various cities from New York to LA to help set him up with women in hopes that they are a perfect match.
See Also
Believe it or not, Lisa Vanderpump, Kyle Richards and the other Housewives all have a past...in TV and film!
Southern Charm New Orleans
Produced by InventTV and Vainglorious Productions with Michaline Babich, Whitney Sudler-Smith, Tim Maloney, Ashley McFarlin Buie and Sergio Alfaro serving as Executive Producers.
The popular franchise heads to The Big Easy for "Southern Charm New Orleans," offering viewers an exclusive glimpse into the sophisticated Creole culture of NOLA. Hidden away from the beads and beats of Bourbon Street is an exclusive community filled with wealth, legacy and tradition. Although the prestige in this town is plentiful, everything that glitters isn't gold, and underneath brews a multitude of shocking secrets that could destroy the foundation of long-standing friendships. In a city where lineage and status are everything, how far will this ambitious group go to redefine their legacy and secure their spot at the top of this esteemed circle?
Love Italian Style (working title)
Produced by Asylum Entertainment with Steven Michaels, Jonathan Koch, Ryann Lauckner, James Macnab, Jacqui Pitman, Omid Kahangi, and Grace Lee serving as Executive Producers.
There's a saying: "To live your best life, go where you are most celebrated." For these African-American women, that place is Italy. In this series, relationship expert Diann Valentine takes five beautiful, eligible bachelorettes who can't find a good American man, all the way to Italy, aka "Mecca," where she breaks them down and builds them back up to be open to love. Sounds as sweet as gelato, but it's not all gondola rides and delicious wine for these single ladies, who live under one roof in a decadent Roman villa, potentially vying for the same men and keeping one side eye on the ultimate prize: a hot Italian husband.
A Night With My Ex
Produced by Twofour America with Melanie Leach, Andrew Mackenzie, Bernie Schaeffer, David Eilenberg and Derek W. Wan serving as Executive Producers.
What would you do if you had the chance to spend an entire night with your ex? Would you seek answers, try to gain closure, or make a play to get back together? For the first time since their split, ex-couples will be brought together for one night in a camera-rigged apartment with no crew. What they do or say during their night is completely up to them, but one thing is for sure: it will be surprising, emotionally raw, and in many cases, totally hilarious.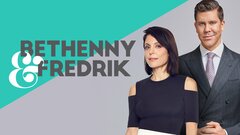 Powered by