'Gotham' Sneak Peek: The Riddler's Evil-ution Is Nearly Complete (VIDEO)
The wait is almost over! Not only is Gotham finally coming back on April 24 after a months-long hiatus, the show is finally getting to the long-awaited kick-off to Ed Nygma's reign as The Riddler.
In this exclusive clip previewing the Gotham's return, Cory Michael Smith explains his character's evil-ution and potentially co-dependent relationship with the (supposedly) late Oswald Cobblepot (Robin Lord Taylor), who was last seen plunging into the Gotham Harbor following the worst bro fallout ever. Poor Jim Gordon (Ben McKenzie)…just when he thinks he's rid of a supervillain, another one suits up. Good thing Bruce Wayne is getting ready to rumble, too.
Gotham, Mid-Season Return Monday, April 24, 8/7c, Fox
See Also
Reporter Damian Holbrook films a cameo for Ben McKenzie's first-ever journey behind the camera for Fox's 'Gotham'.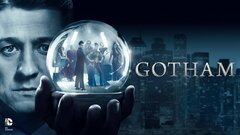 Gotham
where to stream
Powered by