AMC's 'The Son' Episode 3 Preview: 'I Just Wanted to Meet the Colonel' (VIDEO)
Last week, AMC brought back its tradition of airing Western series (following in the wake of series like Broken Trail and Hell on Wheels) with the debut of its new series The Son, based on Philipp Meyer's acclaimed novel and starring Pierce Brosnan as Eli McCullough.
Obviously, viewers were missing their Westerns. AMC announced Thursday that the two-hour series premiere of The Son delivered nearly 3 million viewers across AMC and its sister network SundanceTV, and ended up as the No. 1 original series on cable for the night. Perhaps viewers are also starved for good original programming on Saturday nights, with a number of networks' originals—including some of AMC's own hits—already making it hard to decide what to watch on Sundays.
See Also
Pierce Brosnan returns to TV (finally!) to star as a ruthless rancher in AMC's cowboy drama 'The Son'.
Viewers can continue to watch this "terrific, dynastic saga" when Episode 3 of The Son, titled "Second Empire," airs this Saturday. In the episode, the past timeline shows young Eli making enemies as he trains to be a warrior, while in 1915, an adult Eli and Phineas struggle to help the family in Austin while Pete faces his demons. Leading up to the premiere of this new episode, AMC will re-air the first two episodes of The Son beginning at 6:50pm ET/PT.
Check out an exclusive clip from The Son, Episode 3: "Second Empire." Who can really blame Mr. Philpott for simply wanting to "meet the colonel," when said colonel is as charming as Pierce Brosnan's Eli McCullough?
The Son, Saturdays, 9/8c, AMC and SundanceTV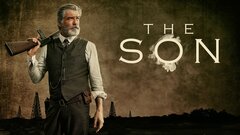 Powered by