Pierce Brosnan Goes West in the New AMC Series 'The Son'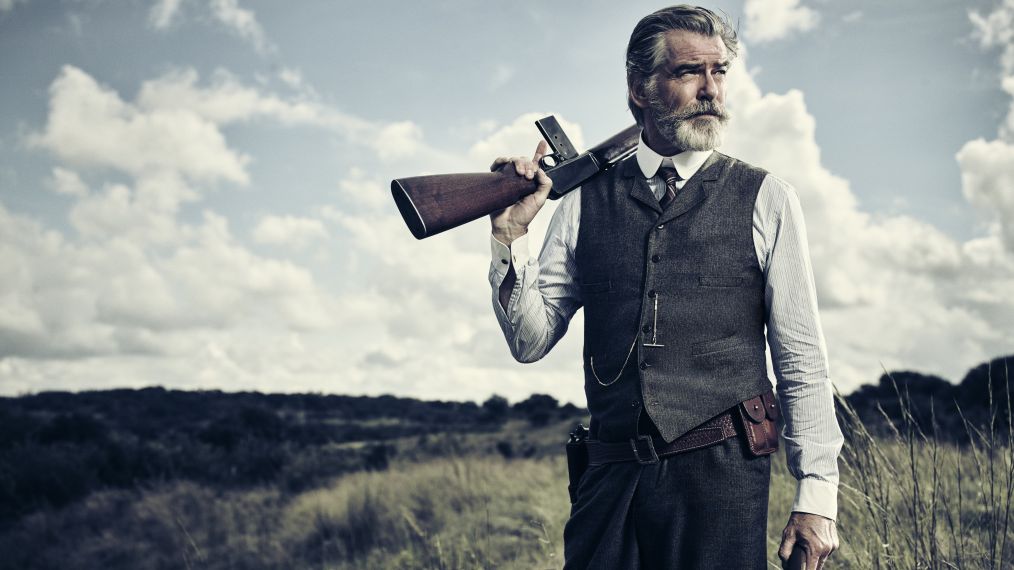 If J.R. Ewing had been born in the mid-19th century and abducted by the Comanche, the irascible Dallas patriarch could have been Eli McCullough, the hard-bitten Texan at the center of The Son, AMC's new multigenerational Western saga.
Based on Philipp Meyer's critically acclaimed novel, the new series follows the epic journey of McCullough—"the First Son of Texas, born on the day in 1836 that the former Mexican province became an independent republic," explains executive producer Kevin Murphy. "At heart, though, Eli is a Comanche pretending to be a cowboy."
The story of Eli's long, eventful and blood-soaked life is told in two different periods. It begins in 1849, when the young Eli (Jacob Lofland) tries to adapt to his new life as a captive of a warrior tribe. Then the drama moves to 1915, when the aging cattle rancher and budding oil mogul (played by Pierce Brosnan in his first full-time series role in 30 years) struggles through a turbulent period in South Texas.
The Son also examines Eli's complex relationships with his family, especially his son Pete (Henry Garrett) and Pete's daughter, Jeannie (Sydney Lucas). "Pete questions the morality of his father," Garrett says. "He knows he's a great man who does terrible things, and he struggles to stand up against him."
To play Eli McCullough, "we needed someone who was incredibly charismatic, whom viewers would believe that people would follow to the pits of hell," says Meyer, also an executive producer. "Pierce has this reservoir of rogue Irish charm. His character can do the most terrible things and somehow you find yourself forgiving him."
The tireless 63-year-old Irish-born actor shares with TV Guide Magazine his thoughts on growing up with Westerns, being back on a series and loving James Bond.
You waited 30 years after the finale of Remington Steele to fully tackle another U.S. series. Why? When Remington finished, I went off making James Bond movies and then formed a production company and made my own films. But in the last few years, I began watching shows that were very engaging, like House of Cards and Game of Thrones, and started looking for a vehicle for myself.
Why did you choose The Son as your big TV comeback? A film I had for the summer fell apart, and I told my agent I didn't want to spend the whole summer idle. The next day this piece landed on my doorstep. I read the first five episodes sitting by the fireplace and was enthralled. It's about the rise of three empires—oil, Texas and America—and I think it will appeal to fans of the Western genre and to those who enjoy exploring the lives of rich and powerful people and seeing their flaws.
Were you a fan of Westerns growing up in rural Ireland? There were always Westerns playing in my local cinema, and I played Cowboys and Indians in the woods. I knew how to make bows and arrows, so I was usually the Indian. I always wanted to do a Western. I've only done one before this [2006's Seraphim Falls]. Among other pleasures, The Son gives me the opportunity to ride horses and shoot guns.
Was it as fun as you hoped? I loved working on the accent, and the people in Austin were very hospitable. However, we filmed in the summer and it was very hot. You really burn up when the heat index is 104 and your costume is heavy, the land is hot, even your horse is hot! If we do a second season, I've made it clear that I'd like to shoot later in the year. [Laughs]
How would you describe Eli, who's in his 70s when the show opens? He's an American mythic hero, a rugged individualist who comes from nothing and, against all odds, builds himself an empire. He goes on to be 100, so they've contracted me for three seasons. Thereafter, I'd be the narrator.
On his climb to the top, Eli does very cruel things. Why should we still admire him? Those were treacherous times, and he's shaped by loss. By his late 40s, he'd lost three separate families. As a frontier man, he'd been surrounded by violence his whole life.
The flashbacks of Eli as a youngster really help us understand what ultimately made him who he is, and as merciless as he is. It's a wonderful way to explore this character. Eli's survivalist instincts come from the Comanche. Their brutal way of life is ingrained in his blood. The Comanche were feared across the plains, but what the white man did to them was atrocious as well. There were also the original Mexican settlers in the mix. You have these warring societies that this culture is built on.
Who is Eli fighting for and against? The era of the cattle ranch is waning. He's warring with his neighbor Pedro Garcia [Carlos Bardem], the patriarch of the last great Spanish family in South Texas. There's also a [Klan-like] faction causing trouble. And he's trying to find oil on his land to keep his family together. Those elements make up the crux of the first season.
Does it all come down to family for him? He has two sons, Phineas [David Wilson Barnes] and Pete, who runs the ranch. Eli has deep love for them, but he's more forward-thinking than they are. Phineas is the more wily son, but he's envious of Pete, whom he thinks his dad favors. It's his granddaughter Jeannie who most has Eli's determination and instincts for survival. But it's a hard world for a young woman.
You're certainly not slowing down after all these years. You have at least five projects for 2017 alone! I just enjoy working. Working is an essential part of my well-being. Financially, philosophically and every other aspect of my life revolves around it.
You've played some memorable parts in both big movies, like 1999's The Thomas Crown Affair, and small, like 2005's The Matador, but the lead in your obituary no doubt will be that you played James Bond. Fair? Bond is a very powerful, iconic character, so any man who's been aligned with it will be remembered that way. I'm very proud of having played him four times and being part of the franchise's resurgence. It was a great honor.
The Son, Series Premiere, Saturday, April 8, 9/8c, AMC and SundanceTV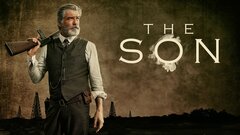 Powered by