Rocky Carroll on Surprising 'Henrietta Lacks' and Working with Oprah Winfrey
He's been helping Leroy Jethro Gibbs (Mark Harmon) fight the bad guys on CBS's long-running hit NCIS for almost a decade but Rocky Carroll is stepping away from law enforcement to play a different kind of role in the HBO's film, The Immortal Life of Henrietta Lacks.
In the film, based on science writer Rebecca Skloot's book of the same name, Carroll plays Sonny Lacks, brother to Deborah Lacks (Oprah Winfrey) who, along with the rest of the Lacks family, helps journalist Skloot (played in the film by Rose Byrne) tell the story of their mother, Henrietta Lacks, who was diagnosed with cervical cancer in the 1950s and had her cancer cells (named HeLa) used to help change the treatment for cancer. Besides the Lacks family uncovering information on their mother with the help of Skloot, the film takes us back to when Henrietta Lacks (Renee Elise Goldsberry) became ill and how the medical community used her cancerous cells.
See Also
The new CBS newsmagazine '48 Hours: NCIS' will introduce viewers to real-life NCIS agents that have worked the investigations that inspired the network's top-rated 'NCIS' franchise.
Carroll gave TV Insider a preview into the film and, of course, we had to try to find out what we could about the upcoming season finale of NCIS.
I know I was surprised by the Henrietta Lacks story. How familiar were you with it before you got involved? What surprised you the most?
Rocky Carroll: I was doing a play here in Los Angeles a few years ago and one of the cast members had just finished reading the book and told me about the story. We both had a feeling that it was going to be a movie someday. I guess what surprised me the most was the medical miracle that took place and just how significant it was in the world of medicine.
You play Sonny Lacks in the film. What did you do in terms of research since you're playing a real person?
The first thing I did was read the book. Then I tried to see as much footage about the real people as I could. Any documentary footage any news articles any interviews that included Rebecca Skloot or any of the Lacks family members. I tried to get my hands on so I could get a sense of what these people were like.
Oprah is a force in this role. Was this your first time working with her?
Yes, this was my first time working with Oprah Winfrey but I was pleasantly surprised at how at ease she made all of the cast members feel around her. She truly relishes being a part of ensemble and that was apparent from day one of rehearsal.
Sonny is very smiley and cheery in the beginning but how would you describe his impression of Rebecca (Rose Byrne) when he first meets her?
By the time Rebecca becomes known to the Lacks family, they, as a whole, were pretty guarded and jaded about people who supposedly had their best interests at heart. While Sonny's natural demeanor is quite charming I believe he was very cautious and guarded about Rebecca's real intentions. The family was cautious for a number of reasons but primarily because so many people had come and gone from the medical world, the science world, and media only to gather information from the family without offering any help or financial assistance to the surviving Lacks family members.
["https://www.tvinsider.com/139751/oprah-winfrey-stars-in-first-trailer-for-the-immortal-life-of-henrietta-lacks/"]
The film often felt, to me, like it had a stage-quality with really great group and 1:1 scenes between the actors. Did it have a different quality for you when filming??
I would agree about the stage quality feel that this project has and there is good reason for it. First, it's directed by George C. Wolfe, who is one of the most dynamic theatre veterans walking the earth today. Most of our ensemble have our roots in the American theater so that stage quality is very prevalent in this film.
Congrats on the renewal for another NCIS season. Will we be getting a big season finale cliffhanger? Anything in terms of Vance and/or the team?
That's classified information! Just kidding. I wish I knew. We don't find out until a day or two before we shoot the season finale.
Understood. You've directed several NCIS episodes now. Does your director brain work separately from your actor brain or do you see them as one in the same?
I have learned that the director brain and the actor brain support each other when I am behind the camera. It's my experience as an actor that allows me to find the proper way to communicate with everyone associated with the series – the actors, the director of photography, the technicians.
When will we see you back on stage, Rocky?
I plan to spend my golden years back on the stage. Hopefully my ability to remember dialogue will not fade away!
The Immortal Life of Henrietta Lacks, April 22, 8/7c, HBO. NCIS, Tuesdays, 8/7c, CBS.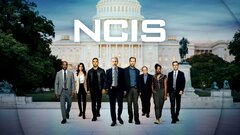 NCIS
where to stream
Powered by