'Shots Fired': New Episode Helmed by 'The Best Man' Writer-Director Malcolm D. Lee (VIDEO)
As Shots Fired's Ashe (Sanaa Lathan) and Preston (Stephan James) investigate what led to Joey Campbell's death, the partners set out to discover any link between his case and Jesse Carr's series-opening shooting. The April 12 hour, "Truth," was written by co-creator Reggie Rock Bythewood and directed by film vet Malcolm D. Lee (The Best Man franchise, Soul Men).
For Lee, whose prior television directing turn was a 2006 episode of Everybody Hates Chris, the experience at Shots Fired was a great challenge. "Reggie was unrelenting when it came to certain scenes that had to be in the show; no short cuts from 'The Rock,'" he says.
"[Co-creator] Gina [Prince-Bythewood] was very specific about the film language—no rack focusing, no unmotivated pans, all cinema verite (hand-held)—so it was both binding and freeing," Lee continues. "The style makes the viewer an active participant—a witness to the unfolding drama—so it was enjoyable for me.
"The sheer number of scenes, locations and characters that have to be managed are amongst the biggest challenges we faced, but having the opportunity to work with veteran and new talent in front of and behind the camera was a nice opportunity."
See Also
Fox's gritty new event series 'Shots Fired' chronicles the racially-charged investigation of a shooting in North Carolina.
Watch an exclusive clip from Lee's episode, as Deputy Beck (Mack Wilds) deals with the lingering fallout from his community.
Shots Fired, Wednesdays, 8/7c, Fox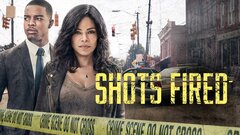 Powered by