Art Promises to Imitate Life in Fox's Hard-Hitting Limited Series 'Shots Fired'
In Fox's new 10-part event series Shots Fired, simmering racial tensions boil over when an African-American cop (Mack Wilds) shoots an unarmed white man in a small North Carolina town. The Department of Justice sends in investigator Ashe Akino (Sanaa Lathan) and Special Prosecutor Preston Terry (Stephan James) to uncover the motivations behind the shooting—and the plot thickens with their discovery that an African-American teenage boy's murder has also gone unsolved in the same town.
Fox Television Group Chairman Dana Walden developed the series after the death of Michael Brown, a black teen who was shot by a white police officer in Ferguson, Missouri, in 2014. Walden asked Brian Grazer (24: Legacy, Empire) to craft a story about the racially charged unrest in the country. Grazer then recruited Gina Prince-Bythewood—best known as the writer and director of the acclaimed movies Love & Basketball and Beyond the Lights—who ultimately signed on to cocreate and executive produce the series with husband Reggie Rock Bythewood. (Coincidentally, Bythewood was looking to explore the topic in a film.)
See Also
The new Fox drama series will investigate what happens in a small town after racially-charged shootings.
"It's important that we entertain, as well as speak to the world," Prince-Bythewood says. "We want people to be caught up in the characters and the mystery and, in doing so, hopefully they'll be accepting of the message because it doesn't feel like news."
Production often wasn't easy for the all-star cast, which includes Richard Dreyfuss, Helen Hunt, Jill Hennessy, Stephen Moyer and Dennis Haysbert. "There were times we were on set in tears from the day's news," says Lathan. "It was almost eerie how [the scripts] were such a reflection of what was going on in the world."
Shots Fired, Series Premiere, Wednesday, March 22, 8/7c, Fox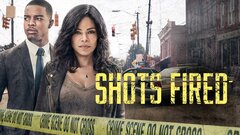 Powered by