Is Gina Dead on 'Brooklyn Nine-Nine'? Andy Samberg Previews the Show's Return
Season 4 of Fox's cop-comedy Brooklyn Nine-Nine finally resumes Tuesday evening and it's about damn time!
When we last saw Jake (Andy Samberg) and company, perfectly sardonic precinct administrator Gina Linetti (Chelsea Peretti) was on the business end of a speeding bus after receiving yet another message from over-texter Charles Boyle (Joe Lo Truglio), followed by an equally unexpected "To Be Continued." WHAT? We grabbed some time with star and executive producer Samberg to talk about that twist and gathered up some evidence about what else is coming down the road. (Sorry, Gina…too soon?)
Ok, this cliffhanger was so out of left field for you guys. Where did that come from?
I don't know who pitched it, but it came out of the writers' room. I was talking to [show creator and EP] Dan Goor and he asked me what I thought. I said it sounded hilarious and very unexpected, especially given the fact that we were suddenly taking this midseason break…it was kind of a fun way to do it. Honestly, personally speaking, it sounded goofier to me when we were talking about it. Then when I saw it I was like, "Oh, holy shit! That's pretty violent." [Laughs]
She was plowed down!
[Laughs] Yes. It definitely seemed pretty intense and crazy, but it also made me laugh hysterically the first time I watched it. I think because it was so out of character for us, that is what made it slightly titillating and interesting. You don't necessarily always know what's gonna happen on our show, which I think is a good thing.
Let's be honest, the only person at the Nine-Nine who could survive it would probably be Gina.
That's fair to say. Either Gina or Terry (Terry Crews) because Terry is made of steel. [Laughs]
Yeah, but in that last episode he was feeling a little weak.
That's true, that's true!
Now Gina getting hit by the bus—the Nine Nine already has a beef with the MTA.
More in the a capella world.
Is this only gonna escalate the Christmas Carol competition?
I haven't thought of that! But that's a great thing to throw into the next MTA episode—them talking smack about how they took Gina out. [Laughs]
What else do we come back to? Do you guys pick up right after that? Or has time passed?
A little time has passed, I believe, and you will know the answer to what happens to Gina soon into the first episode back, yeah.
And this is also the episode that brings back Amy's ex, Teddy (Kyle Bornheimer)?
Yes, which was delightful. Great to see Kyle.
We love that guy! How does Teddy feel about this new romance between Jake and his ex?
He's playing it cool at first. But, you start to realize [that] he maybe is a little sore over what went down before, with Amy. And it's changed his personality a little. He's living a slightly reactionary life following their break-up.
What about the rest of the season?
Let's see…plenty of police work, a lot of cases. [Laughs] There's a fun episode where they go to Cop-Con, which is a big weekend at a hotel where all of the cops gather and there's all kinds of fun and activities. And the whole squad goes. That's a real fun one.
And you have Nathan Fillion coming on, right?
That one is super fun. Jake and Rosa (Stephanie Beatriz) are obsessed with a Law & Order style show called Serve & Protect. And Fillion's character is the lead actor of that show and there's a crime that takes place on that set, so Jake and Rosa are covering the case and they get to meet all of the actors on the show. It was very meta. We had a lot of trouble discerning who was actually our crew and who were actors pretending to be our crew. It was very confusing. We kept going up to them and being like, "Hey, can we get a light over here?" And they'll be like, "Oh, I'm an actor." [Laughs]
And how does Jake handle meeting his celebrity hero?
Oh, he's pretty geeked out. And Rosa too. They're both pretty excited. Jake maybe more so than Rosa, but that's kind of like everything when it comes to Jake and Rosa. [Laughs]
Yeah! Very true. Teddy's return is tied to a threat of the precinct being closed down, does that run beyond this first episode back?
Yes. That is something they're facing and that they need to sort of meet head-on. As usual, Jake tries to take matters into his own hands and things get a little wacky.
That is kind of what he does best.
Of course! This is what he does. I can't wait to do an episode eventually, at some point, where Jake just goes, "Nah. Let's not do that." Or "I think we should ask everyone in charge first." [Laughs]
Brooklyn Nine-Nine, Tuesdays 8/7c, Fox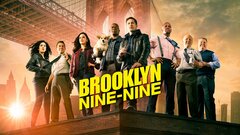 Powered by