6 Things We Know About the 'Imposters' Season Finale
It's about to go down in the season finale of Bravo's enticing freshman drama, Imposters!
To catch you up on where things left off, Patrick (Stephen Bishop) and Maddie (Inbar Lavi) were mere days away from their staged wedding in an attempt to trick The Doctor (Ray Proscia) into coming out of hiding. Once that happens, the FBI can lock him up for good and everybody can go on with their lives. Of course that also means Maddie heads for witness protection and Patrick completes his assignment.
See Also
We want to hate Inbar Lavi's sexy swindler Maddie, but we just can't!
Also in the intense world of trickery, Ezra (Rob Heaps) is forced to become an FBI informant while Jules (Marianne Rendón) jumped into bed for a romp with undercover FBI agent Gina (Chastity Dotson). And, towards the end of the episode, we found out that Ezra and Maddie were actually working together to fool the FBI into thinking he's an informant. With so many pieces that need to fit just right for this plan to work, will Maddie and Patrick's faux wedding go off without a hitch?
TV Insider was able to speak with Stephen Bishop to get the low-down on the Imposters season finale and Patrick's conflicting feelings. Hold on tight!
There will be no bromance between Patrick and Ezra

You'd think that as someone who's also fallen for Maddie's charm, Patrick would sympathize a tiny bit for Ezra, who's now being forced into being a narc. Not the case, explains Bishop. In fact, Patrick sees Ezra as a "competitor he's vanquished" and as a "sucker who got taken along the way." To add insult to injury, Bishop maintains, "Patrick believes that he actually had a real connection with Maddie…and that connection caused Maddie to kind of rethink things," whereas Ezra, "wasn't able to get Maddie to come out of her con-artist shell as he was." Shots fired!

Another curve ball could throw Patrick big time

As Patrick and Maddie's relationship deepened, he may have gotten too confident, thinking he had her "right where he wanted her." When she actually turned down his proposal, Patrick internally had a meltdown and it only got worse after she suggested they run away together instead. "Wait a minute, this is getting out of control…now she wants me to become a fugitive with her!" Bishop laughs. "Everything is just going left here! What's happening? He didn't expect any of that!" Let's hope nothing else comes out of left field for Patrick during the wedding.

There will be bling

With a beautiful mansion, a million-dollar ring, and a private jet, Patrick is thoroughly enjoying living it up undercover on the FBI's dime. "He took quite a few liberties," Bishop explains. "That million-dollar ring, he didn't have to go all that hard on it, did he?" Patrick finds himself in more dangerous territory when he proposes that the FBI uses $500,000 real cash to lure The Doctor out on the big day. However, that suggestion could come back to bite Patrick in the season finale.

Jules and Richard aren't on the FBI radar…yet

So far, only Ezra has been detained and forced into working for the FBI, so we had to ask, why Ezra when clearly Richard and Jules have also been around him when he committed crimes like credit card fraud? Bishop speculates, "Because Ezra was the guy who exposed himself at the flower shop. Ezra was the guy that showed up at the party and announced that he was Maddie's brother," while Richard and Jules haven't put themselves on Patrick's FBI radar at this point. But could that change soon?

Patrick may not be able to separate his work from his heart

In the beginning, Patrick was ready to commit and do his job but later grew feelings for Maddie. Bishop stresses that Patrick has to, "always remember who he is and where is he so that the temptation doesn't confuse him." His boss, Agent Coop (Denise Dowse), warned him not to let the job mess with your head and your heart, but will that be easier said than done for Patrick?

You'll be on the edge of your seat

In the world of professional con artists and the show being called Imposters, expect the season finale to contain enough juicy backstabbing and betrayal to make us want a second of the Bravo series (which has yet to be renewed). Bishop promises that fans can, "expect just as much intrigue and on-the-edge of their seat anticipation as they've gotten in the previous nine episodes." So if you're on the edge of your seat, holding on tight would be a good idea.
Imposters, Tuesdays, 10/9c, Bravo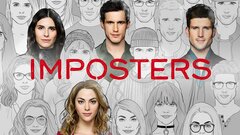 Powered by