Lili Taylor and Regina King's Worlds Collide in a New 'American Crime' (VIDEO)
Watching Lili Taylor and Timothy Hutton's storyline begin to develop last week on American Crime was like watching a car crash in slow motion.
The moment Taylor's Clair picks up Gabrielle (Mickaëlle X. Bizet), her new Haitian nanny, it's ominously clear where things could be headed. The cloyingly patronizing way that Clair interacts with Gabrielle, the speed with which her condescension turns to anger, her husband Nicholas's (Hutton) barely concealed resentment of the stranger in his home, his simmering anger at the way the world is changing around him, his palpable sense of emasculation. It all adds up to what could potentially be a ticking time bomb.
See Also
Felicity Huffman and Regina King fill us in on their characters in the new season of 'American Crime.'
In this exclusive clip from Sunday night's episode, Clair and Kimara (Regina King) come face to face at a fundraiser where Kimara is making a presentation about her organization, Project Open Road. The two women discuss the illusion of choice that Clair seems to think people like Gabrielle and Shae (Ana Mulvoy-Ten) have—the choices that aren't really choices at all, the exploitation they're forced to live with when the alternative is starvation or abuse.
But it's not clear whether Clair gets the message. She's distracted by a text message that, ironically, she thinks is from Gabrielle, and shifts the conversation to motherhood—a topic that definitely hits home for Kimara. She conveniently sidesteps her role in the very system of exploitation Kimara is fighting, making a generous donation to Open Road before straight up bouncing, returning to her tony, well-appointed life as it slowly careens toward potential disaster.
Check out the clip:
American Crime, Sundays, 10/9c, ABC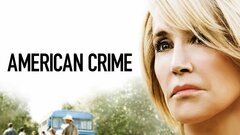 Powered by