'American Crime' Season 3 Tackles Human Trafficking, Drugs and Immigration
By now we know what we're going to get by watching ABC's drama American Crime: great acting, writing, directing and subject matter. The John Ridley-created series returns for its third season Sunday with a focus on immigration and human trafficking, and viewers will be compelled to think about those issues in a way they've never thought about them before. (And what a time in our country's history to tackle both topics.)
See Also
John Ridley talks Season 3, which addresses issues of immigration, labor and human trafficking.
Familiar faces from previous seasons—two-time Emmy-winner Regina King, Felicity Huffman, Benito Martinez, Connor Jessup, Richard Cabral, Lili Taylor and Timothy Hutton—populate the new season along with new faces—Sandra Oh, Cherry Jones, Tim DeKay, Dallas Roberts, Ana Mulvoy-Ten, Mickaëlle X. Bizet. The hot button issues of human trafficking, immigration and drugs are just some of what inhabits this season's heartbreaking, yet engaging stories.
TV Insider recently had the chance to sit down with series' stars Huffman and King to get their take on the roles they play, and what viewers can expect from the new season American Crime.
American Crime, Sundays, 10/9c, ABC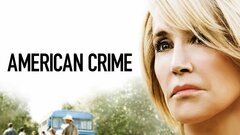 Powered by