'Santa Clarita Diet' Renewed for Season 2
Get ready for more suburban guts and gore. Drew Barrymore's undead comedy, Santa Clarita Diet, has been renewed for a second season by Netflix. Production on the second season of the series, which also stars Timothy Olyphant, will begin this summer. It is expected to return in 2018.
See Also
Drew Barrymore and Timothy Olyphant star in Netflix's screwball supernatural comedy as married suburban realtors rocked when she develops a taste for her neighbors
Barrymore and Olyphant play Sheila and Joel Hammond, your average married couple who live in the L.A. suburb of Santa Clarita. That is, until Sheila suddenly has a craving for flesh and Joel must do everything he can to keep her from eating the neighbors. Yum!
Watch the announcement below (don't do so while eating):
See Also
Barrymore explained her misunderstanding during a Netflix panel on Wednesday in New York City.
Santa Clarita Diet, Streaming, Netflix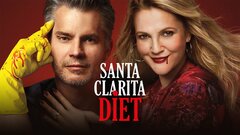 Powered by