Five Odd Couples Who Made Their Mark
Matthew Perry and Thomas Lennon are about to reboot the forever mismatched Oscar and Felix on The Odd Couple. Here, a look at the other duos who've taken on the roles over the years:
1965
"It's arguably the greatest comedy of the American theater," showrunner Bob Daily says of the original Neil Simon play that debuted on Broadway in 1965. Garry Marshall concurs: "We should bend down and pray to Neil Simon, thanking him for creating such easy characters to write."
1968
"By the time I was 10, I had every line memorized," Matthew Perry says of the hit movie starring Walter Matthau and Jack Lemmon. "That's really what drove me to develop this project."
1970-75
"I saw it in reruns and thought Tony Randall was the funniest person," Thomas Lennon says of the original sitcom. Despite its enduring popularity, it wasn't a ratings smash when it first aired. "We were in the Top 20, but never the Top 10," remembers Marshall. "We were always getting canceled!"
1975-77
The ABC cartoon The Oddball Couple–an unofficial adaptation featuring dog Fleabag and cat Spiffy–lasted just 16 episodes and is seemingly gone without a trace. "If anybody has copies, please let us know, because we are obsessed with trying to find it!" Daily says.
1982-83
The New Odd Couple, starring African-American actors as Oscar (Demond Wilson) and Felix (Ron Glass), ran only one season. "What went wrong," says Marshall, who was an executive producer, "is that they tried to use the same scripts that were written for two middle-aged Jewish men. It was not a good show."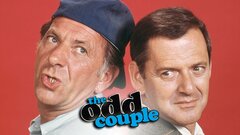 Powered by