'Blindspot' EP Previews Show's Return: Which 'Family' Will Jane Choose? (VIDEO)
Blindspot finally returns tonight with original episodes, picking up exactly where we left off exactly two months ago: With someone trying to strangle Nas (Archie Panjabi) in her car and Jane (Jaimie Alexander) keeping Weller (Sullivan Stapleton) in the dark about the fact that her psycho brother Roman (Luke Mitchell) remembers killing Taylor Shaw's mother.
So we put the screws to executive producer Martin Gero for info on what we should expect, and put together this dossier for the second half of the season.
Nas Will Be OK
Even though the guy in her backseat seems really determined to separate her head from her shoulders, Gero says "Nas is a lot more resourceful than we've seen."
Pointing out her evident sniper training and combat abilities, he continues that we shouldn't worry (even though Panjabi has signed on for a Fox pilot). "At the beginning of the next episode she's still very, very much with us." And not only that, Gero confirms that Nas shows the stranger what's up with an action sequences "that actually pretty amazing."
That Roman-Weller Bromance is at Risk
The slow-burn development of the buddyship between Jane's ex and her imprisoned sibling is set to take a hit once Weller gets wind of his favorite sparring partner's murderous memory. "I don't want to give too much away," hedges Gero, "but you can look out for that coming to a head towards the end of the season, definitely."
He also encourages fans to hold out hope for Roman's redemption. "I think Weller realizes what Jane sees in Roman, that he's got a good soul…there's a good guy in there to save."
Patterson Will Continue to Be a Boss
In the last few episodes before the break, Ashley Johnson's forensics genius found herself out of the lab and bringing the heat in the line of fire.
"We would love to get Ashley out in the field more often," raves Gero of the actress's mad skills. "She's so capable. Like, in the early days, back when no one knew how to hold a gun, [the cast] all went to FBI training she smoked everybody. She was so comfortable with firearms…yeah, she's a badass." Which should make for a very chilling situation when she comes face-to-face with Borden (Ukweli Roach), the Sandstorm double agent who seduced and then tortured her.
The Wins Are Coming
Shepherd (Michelle Herd) better watch her back, too. With Nas reconnected with her contact within Sandstorm, Roman ready to lend a hand and everyone more determined than ever to bring down the terrorist organization run by Roman and Jane's adoptive mom, the tables are about to turn for our chronically one-upped team.
"They have been getting their asses kicked," Gero agrees. "Like, they just cannot seem to get a step ahead of these guys. Episode 16 is where the tide turns. That's when the noose starts to tighten around Sandstorm and Shepherd."
Tattooed Jane…Happy At Last?
"I think what Jane was looking for so much in Season 1 was just a real sense of connection with somebody," explains Gero. "Not just like an old friend. Like, who are my and what is my family?"
Over the course of Season 2, he says that theme has been explored through crazy ways—"it was pretty contentious between her and the team at the beginning when they found out that she had betrayed them"— and with the introduction of Shepherd and Roman, her loyalties have been tested even further.
"This year has been for her 'which family do I choose?' Does she choose her FBI family, or her sociopathic real family?" According to Gero, the decision is a done deal. "Midway through the season, she makes a pretty firm choice…she's with the good guys."
And in this exclusive clip from tonight's episode, it's clear they are happy to have her.
Blindspot, Wednesdays, 8/7c, NBC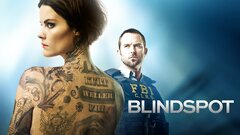 Powered by