Sullivan Stapleton of 'Blindspot' on Weller's Dramatic Season So Far
Oh, daddy. With a kid on the way and a job babysitting the potentially traitorous Jane (Jaimie Alexander), FBI agent Kurt Weller (Sullivan Stapleton) is up to his blue eyes in homeland-security risks and domestic dramas on the NBC thriller Blindspot. We talked to Stapleton about how he mastered the mix of tough and tender.
Confession: We love that Weller is an action hero who isn't afraid to show his emotions. And you crush the dramatic stuff.
Thanks! It's the great part of this character: I get to explore his vulnerability and the strengths and weaknesses. I try to make it as real as I can.
And things have gotten very real for him this season. Not only is he dealing with the whole Jane betrayal, but he's also dealing with his dad's death and the fact that his ex Allie (Trieste Kelly Dunn) is pregnant.
That's life! I'm embracing it. And I love that the writers let me show all sides of the character. The highs, the lows, the laughs. The roller-coaster.
RELATED: Blindspot's Luke Mitchell on Why Roman Might Be Redeemable
Apparently this week's investigation into an attempted assassination of a politician by the Irish mafia is a big deal for Weller?
I don't know if I can say anything! It's definitely linked to Weller. And it hits a chord closer to home than you'd expect.
Are things warming up between Kurt and Jane?
They're not in a hot tub yet. [Laughs] They're trying to mend the relationship as they need to. The lack of trust is there. We have to mend that in order to work together.
You film in New York. Have you guys run into other shows shooting in the city?
No, but I can tell you those Gotham motherf—ers shut down my street. I got home from filming my show one day and my street was blocked off! [Laughs]
Blindspot, Wednesday, Oct. 12, 8/7c, NBC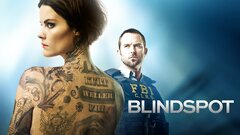 Powered by