Empire's Success is Crucial for Fox Empire's success is crucial for Fox
The hit hip-hop drama has helped Fox get out of the rut it was stuck in going into this season. And its growing audience — especially in the key 18-49 demo — is helping Empire prove to be "a platinum property for a network that desperately needed one," as the NY Times points out. The Times says "that attention, critical acclaim and ratings success for 'Empire' is crucial for Fox," especially in bringing back viewers lost to cable. PLUS: Is Empire Blaxploitation?
JK Simmons films his SNL promos amid the "Snowmageddon"
The Oscar-nominated former star of The Closer is hosting Saturday Night Live for the first time this week.
HBO renews Togetherness
The Duplass brothers family comedy will get a 2nd season after premiering to 2.6 million viewers.
GoDaddy yanks lost puppy Super Bowl ad after backlash
The domain company's attempt to satirize Budweiser's "Lost Dog" ads backfired, prompting the pulling of the ad.
Better Call Saul can be enjoyed by those who didn't watch Breaking Bad
So says Vince Gilligan: "I don't think you need to have watched 'Breaking Bad' to enjoy 'Better Call Saul.'" Though his co-creator Peter Gould adds: "There are a lot of surprises for people who have watched 'Breaking Bad.'"
Entourage's Jerry Ferrara joins Season 2 of Power
He'll co-star as a "successful attorney with a dark secret" on the 50 Cent-produced drama.
Jesse Eisenberg's short stories to become an Amazon comedy
Bream Gives Me the Hiccups is based on a series of short stories about a 9-year-old restaurant critic that Eisenberg has written for McSweeney's.
Idol record producer slams Phillip Phillips' "baseless claims"
19 Entertainment has responded to the Idol winner's allegation that his contract is "oppressive": "We have always acted in the best interest of Phillip. We will vigorously defend ourselves from any baseless claims to the contrary and from any attempt to interfere with our rights and relationships."
SportsCenter hires Christopher Reeve's youngest son
Will Reeve, the son of Christopher and Dana Reeve, will be among a trio of young new correspondents who will contribute special reports for the ESPN franchise.
OWN will show Oprah's 2006 visit to Auschwitz to mark the 70th anniversary of its liberation
The encore presentation of The Oprah Winfrey Show featuring Elie Wiesel will be shown on Friday. PLUS: CNN will mark the anniversary Wednesday with a Voices of Auschwitz documentary.
Why Parks and Rec's liberal politics don't play as "political"
Leslie Knope & Co. have made government an important aspect of community, while also making sure that Ron Swanson delivers the opposition view.
Nat Geo Wild will let viewers pick programming on Wednesdays via social media
Starting this week, "Would You Rather Wild Wednesdays" will let viewers pick the kinds of shows they want to watch via Twitter hashtag.
Super Bowl players talk Game of Thrones
The HBO series was one of the "important" questions at Tuesday's Super Bowl media day with the Seahawks and Patriots.
Sam Elliott on joining Justified: "I tell ya, it's f–kin' chaos at the moment"
Elliott, who kicks off his Justified stint with tonight's episode, says: "I watched it early on, then I got away from it. I'm not one to sit around and watch anything religiously on TV. But I was fascinated with the quality of it from the get-go. I was tickled when they came my way, to be honest with you." PLUS: You don't have to think very much to enjoy Justified.
CeeLo Green releases an album devoted to TV theme songs
The former Voice star's new album features riffs on the themes of Knight Rider, Family Ties and Taxi.
How will Agent Carter end Season 1?
Viewers can expect to be "hopeful. And a little bit of sad" by the end of the finale, says co-showrunner Michele Fazekas. "Everybody goes through the wringer!"
Fox's ADHD creates an anime version of Family Matters
Check out Animation Domination's Urkel-San.
Criminal Minds spinoff adds a Walking Dead alum
Tyler James Williams, who played Noah on the AMC series, will play the tech analyst on the untitled spinoff of the CBS series.
Shonda Rhimes reveals her viewing faves: Girls, Empire and Episodes
The ABC Thursday night honcho also says she's considering rewatching Breaking Bad.
Is Gotham making Jim Gordon out to look like a moron?
Ben McKenzie's character seems to be getting dumber by every episode.
Devious Maids bringing back Brianna Brown
Brown last appeared on the Lifetime series in Season 1. She'll be a regular in Season 3.
Check out Parenthood's series finale photos
Writer Sarah Watson says the writers "figured out what the actual last image would be very early on."
The German government is funding a Battlestar Galactica-inspired live-action role-playing game
A retired German destroyer will be used next week for a fake war between humans and Cylons.
CBS orders Code Black, based on an award-winning ER documentary
CBS is creating its own version of "ER," set in L.A. County Hospital, considered "the busiest and most notorious ER in the nation."
The Challenge honors former Real World: New Orleans star Ryan Knight
Watch a glimpse of tonight's special paying tribute to Knight, who died in November.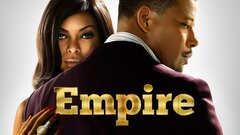 Empire
where to stream
Powered by