Jennifer Lopez's 'Shades of Blue' Renewed for Season 3
All that duplicitous backstabbing and police corruption will continue for Jennifer Lopez, Ray Liotta and company when the NBC drama Shades of Blue comes back for its third season.
"We're so hugely appreciative of everything Jennifer and Ray [Liotta] do, and know it is due to their dedication, as well as the hard work of our incredible cast and producers, that Shades of Blue has so clearly and compellingly earned a third-season renewal," NBC Entertainment Jennifer Salke said in a statement. "This show continues to mine powerful stories that always leave us hungry for more."
See Also
Returning hits 'American Ninja Warrior' and 'The Wall,' along with new series 'Midnight, Texas' and 'Marlon,' are also part of NBC's busy summer schedule.
In the series, which premiered its second season earlier this month, Lopez (also an executive producer on the series) plays Brooklyn detective Harlee Santos, a single mother and part of a team (led by Liotta's Lt. Matt Wozniak) that often steps outside the lines of the law to protect the precinct and their team. The latest season began with Santos dealing with the repercussions of having killed her daughter's father in the first season finale and dealing with his body and the cover up.
See Also
NBC drama 'Shades of Blue' gets off to a crackling start in Season 2. Can J. Lo and Co. handle the heat?
The series also stars Warren Kole, Drea de Matteo, Dayo Okeniyi, Vincent Laresca, Hampton Fluker, Sarah Jeffery and Gino Anthony Pesi. Breaking Bad alum Anna Gunn has also joined the series this season as mayoral candidate (and former member of the precinct), Julia Ayres.
Shades of Blue, Sundays, 10/9c, NBC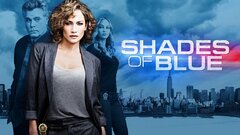 Powered by