All Singing! All Dancing! A Deep Dive Into the 'Flash' and 'Supergirl' Musical Crossover Episode
It takes a superhuman amount of effort to stage a musical episode, much less one that involves two TV series. But if there's anyone who can get the job done, it's the teams behind The CW's Supergirl and The Flash. "These shows are not easy to produce anyway," admits Andrew Kreisberg, executive producer of both DC Comics–based dramas. "Normally, there are about eight days of prep before a regular episode films, and we usually do more than that because it's not enough time."
So imagine the heavy lifting required for the musical crossover, which kicks off at the end of the March 20 episode of Supergirl and plays out on the March 21 episode of The Flash. Fans have been dreaming of a song-and-dance mashup ever since Melissa Benoist hit the air in 2015 as Clark Kent's cousin, Kara—joining fellow Glee alum Grant Gustin (Barry Allen, below, with Benoist) of The Flash—in The CW's Arrowverse. And it turns out the powers-that-be have wanted one even longer. "Greg [Berlanti, executive producer of all the Arrowverse shows] has been talking about a musical since before Supergirl started," says Blake Neely, composer on all of Berlanti's shows. "I think he got it in him when they cast Grant. The man is a creative genius."
Once Supergirl moved from CBS to The CW this season, the idea became almost a no-brainer. The plot centers around Music Meister, the DC villain who whammies our heroes into song-and-dance madness. "He draws on Barry and Kara's individual love of musicals and creates this movie-musical alternate reality that they find themselves in," Kreisberg says. "They're in a sort of MGM movie musical, and the only way to get home is to follow the plot, which includes gangsters and gun molls, big musical numbers and star-crossed lovers. It's a lot of fun."
Still, it took a lot of work to come together. "We started [working on] this a long time ago, far earlier than we would on a normal episode," Kreisberg says. "Instead of doing stunts and visual effects, we were working on songs and dance. It wasn't just the normal superhero stuff that we do." The first order of business was a pre-Christmas hunt for a potential song list that led to a double dose of awesome: Crazy Ex-Girlfriend's Rachel Bloom agreed to pen "Super Friend," a duet for Barry and Kara, while La La Land's Oscar-winning team of Benj Pasek and Justin Paul crafted the solo "Runnin' Home to You" for Barry. There are also three cover tunes, including "Put a Little Love in Your Heart" and "Blue Moon."
See Also
The actress is just as much in the dark about Iris' fate as the audience.
Since Berlanti's superhero shows feature a musically gifted stable of actors, Kreisberg then set out to cash in on "the embarrassment of riches" at his disposal. In addition to Benoist and Gustin, the two-parter will showcase the stage-honed vocal chops of The Flash's Carlos Valdes (Once, Jersey Boys) and Jesse L. Martin (Rent); Supergirl's Jeremy Jordan (Newsies); and Legends of Tomorrow's Victor Garber (Damn Yankees, Godspell) and John Barrowman (Anything Goes, Sunset Boulevard). "As with any of our crossovers, it was really just a question of working out the scheduling," says Kreisberg, noting that multi-series cast member Barrowman was the trickiest one to clear. "The week of filming, he was guest starring on Arrow, Legends and The Flash!" After locking in the ensemble, the producers scored a casting coup worth singing about when Darren Criss, who'd previously worked with Benoist, Gustin and Supergirl executive producer Ali Adler on Glee, signed on to play Music Meister.
Production then had one last hurdle to face. The two series shoot in Vancouver, but Neely—also in charge of the music on Blindspot and Riverdale—is based in L.A. "I couldn't stop that process to go to Vancouver and record them," he explains. "So we recorded over Skype, from their studio to my studio."
In the end, it all worked out. "Melissa said that she'd forgotten how much she missed singing and dancing," Kreisberg says. "The cast definitely put in extra time. There was choreography, they all had to rehearse their numbers and they had to lay down the tracks. But if the finished product is any indication, you will see the joy on all of their faces when you watch the show." And that is music to our ears.
Supergirl, Monday, March 20, 8/7c, The CW
The Flash, Tuesday, March 21, 8/7c, The CW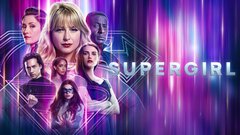 Powered by
Powered by