Who Can Save Iris on 'The Flash'? Candice Patton Has the BEST Answer
Ever since Barry (Grant Gustin) slipped through time and saw god of speed Savitar slaughtering his true love, Iris (Candice Patton), The Flash has been all about changing the future to save her life. So far, nothing has worked. Even a full-on gorilla battle royale and an ill-advised marriage proposal haven't kept our girl from being run-through by the Transformer-lookin' baddie. Honestly, it's starting to look a little bleak…especially since the producers haven't even clued Patton into what lies ahead for her character!
"No, they didn't tell me," she confesses with a laugh. "I have no idea and it's a little alarming. I think I know, but you never really know. I am just in the dark as the audience so it will be really interesting to see if Team Flash can pull it off. I'm hoping they can, because I need a job."
Adding that she loves how Iris has evolved since learning of her potential demise—"they did a really great job this year of giving Iris so many levels, she's genuinely in fear for her life…and we've also seen her being kind of reckless about her future knowing that, if she's not going to die until May, she's can't die today"—Patton sees the chance for more growth as time runs out. "Hopefully, we'll see a version of Iris who gets the strength to be part of saving her own life, to be a part of the narrative that ensures her safety," she offers. "How cool would that be? She is a very capable woman, so how great would it be for a character like Iris, who has no superpowers, to be part of her own destiny?"
It would pretty much be the greatest, right, Flash fans?!
The Flash, Tuesdays, 8/7c, The CW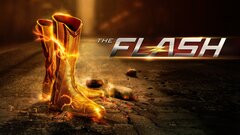 Powered by