'The Late Late Show': James Corden and Samuel L. Jackson Reenact Jackson's Career in 10 Spectacular Minutes (VIDEO)
Samuel L. Jackson answered The Late Late Show's "Role Call" Wednesday night. The Oscar winner performed quick and comical riffs on more than two dozen of his most memorable roles, with Late Late host James Corden (who's also done the bit with Tom Hanks, Tom Cruise, Arnold Schwarzenegger and Matt Damon) as his costar.
The 10-minute sketch got plenty of mileage out of white T-shirts, cheese-tastic props and Corden frequently being on the wrong end of a gun. Highlights included Corden, in full Travolta wig, staring meaningfully into space while Jackson delivers Pulp Fiction's "path of the righteous man" speech; a Jurassic Park tribute that consisted entirely of Jackson announcing "hold onto your butts!" as a dinosaur-masked Corden popped out of a Home-Depot-house-plant jungle; a winking reenactment of Jackson's infamous—and famously cheesy—Deep Blue Sea death scene; and, for a grand finale, the duo harmonizing on Soul Men's "Hold On, I'm Coming."
See Also
The men sang a number of hits as they vied to see who would make the better frontman for the iconic band.
There was a bit of self-promotion, too. Both Jackson and Corden (in a gorilla suit) broke character to shill Jackson's upcoming Kong: Skull Island, which premieres March 10. And Corden saw opportunity in the The Hateful Eight homage to ask Jackson to put in a good word for him with Tarantino. Check out Jackson's full Role Call below.
The Late Late Show, weekdays 12:37am, CBS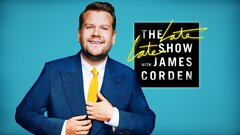 Powered by