Adam Lambert and James Corden Compete in a Queen Sing-Off (VIDEO)
On Thursday's Late Late Show With James Corden, the host excitedly revealed to his audience that Queen and Adam Lambert are embarking on a summer tour of North America. Corden also confessed that Queen was his favorite band growing up. As a kid, he fantasized about being the frontman of the iconic group, which was led by Freddie Mercury back in its heyday.
Corden's shot at leading the group has likely passed, because American Idol alum Lambert has filled in as frontman for years now. But Corden confidently told his audience he would definitely be a better frontman than Lambert. Then Lambert came out from backstage, and it was on.
"I know I'd be a better frontman for Queen," declared Corden. It was just a shame, Corden offered, that Queen wasn't there for him to prove it.
RELATED: What James Corden Can Teach Stephen Colbert About Going Viral
And like magic, Queen's Brian May and Roger Taylor appeared from backstage and the sing-off began (complete with a fog machine).
Watch the rockin' frontman battle below:
Accepting Corden's challenge, Lambert started into an effective version of the Queen classic "We Will Rock You." Corden looked a bit sheepish afterwards, at first seeming like he regretted what he had gotten himself into. But it was all a bluff, as the host promptly leapt from his desk with a mic and rocked the crowd with "Don't Stop Me Now." Lambert himself seemed so threatened by Corden's talent that he did, in fact, stop Corden now, cutting him off early.
So Lambert jumped into a rocking rendition of "Crazy Little Thing Called Love," which threw Corden. Sadly, he had to admit that Lambert was, indeed, a better frontman for Queen. The two men mended fences, though, by finishing off with a duet of "Somebody to Love."
While the sing-off showed that neither man can truly ever replace Freddie Mercury, it did spotlight Lambert's effectiveness at stepping into the role, and again showed James Corden's strong singing chops, which has been evident to fans of his show through other segments, notably Carpool Karaoke.
And, above all, it was fun, and Lambert and Corden did indeed rock us.
The Late Late Show With James Corden, Weeknights, 12:37/11:37c, CBS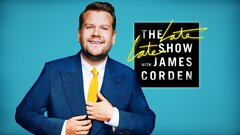 Powered by