'Shadowhunters': Bosses on Malec's Future, the Soul-Sword and Simon's Survival
While it feels like the second season of Freeform's Shadowhunters just premiered yesterday (to be fair, it was early January), it's already time for the midseason finale. With the Soul-Sword possibly ending the existence of the Downworlders, Malec at odds, Izzy fighting addiction, Simon and Clary coupling while Jace tries to be supportive and Valentine being his usual villainous self, there is much to be dealt with in the midseason finale. Thankfully, TV Insider got an early peek at the episode and while you won't find any spoilers here, we can tell you the episode is a a doozy for everyone involved.
RELATED: Sign up for TV Insider's Shadowhunters Newsletter
But let's not get too far ahead. While you'll want to come back here after Monday night's episode airs on Freeform for a breakdown of the episode and some teases about what's to come in the second half of the season, we also made sure to check in with executive producers/showrunners Todd Slavkin and Darren Swimmer for a preview of what fans will see in the midseason finale.
You guys have really mixed up characters so much more this season than ever before. Was that an intention or more of how the stories just went?
Todd Slavkin: It was certainly an intention. It's such an amazing cast, and they've got such chemistry between them. We wanted to exploit that on screen, as well as creating these relation-ships, so to speak, that are unlikely and catch you by surprise and there's many more ahead that I think will continue to surprise the audience. We love mixing it up.
Darren Swimmer: When we saw Alberto and Dom together in episode 7, we were like, "yeah, we need more of them together." You see their chemistry together and what they do and you just want to do more of it.
Let's talk about the Soul-Sword. Basically everyone's lives are resting on it, right?
Slavkin: The entire downworld is at stake. With one slice of this sword, thousands of people can die so it's basically a ticking bomb that needs to be stopped.
Can it actually be destroyed? Do we know that for sure?
Slavkin: I would just say keep watching. It's a Mortal Instrument so it can't be that easy to simply get rid of.
The addiction story with Izzy has been really interesting. Is there hope she might pull herself out of this?
Slavkin: We thought it was interesting to take a character that is so strong and people perceive her as this fierce warrior and in reality there's a vulnerability. And a lot of this is based on her relationship with her mother, and the tension that was setup in season one, never being good enough and that starts to expose a weakness. And we thought that that was an interesting way to approach the fierce warrior, and Emeraude is just incredible and she and David Castro (Raphael) together, to us it's electricity.
We've seen Simon change a lot since he's embraced being a vampire but will he be able to take care of himself now that he has been taken by Valentine?
Swimmer: It definitely should be a concern for him. As comfortable as he's been and he's becoming, it's still not exactly a match for the Circle and for Valentine. However, we will get to see him roll-up his sleeves and kick a little butt in this episode.
At this point, should we trust Maia? She's definitely seeming like a loose cannon!
Slavkin: That's what we love about Maia, right? She's unpredictable and she is a loose cannon. Everything she does, whether it's good or bad, there's a reason behind it. It's interesting because some people off of [episode] 209, you can understand why she was going to kill Clary. It was to save the entire DownWorld. There's a great line in 201, where it's something like, 'if I have to kill one to save a million, then so be it.' So it's not like she's koo-koo-bananas. There's a logic to her thinking.
Alec definitely was not happy with Magnus in the last episode. What can we expect from them in the mid-season finale?
Swimmer: Well, one thing that's true about any relationship is seeing your loved one in jeopardy or in danger can really bring you closer. So I think that that's going to be something that both of them are going to have to face.
What kind of truths will the Soul-Sword make the Shadowhunters cast divulge? Watch this exclusive video:
Shadowhunters, Mondays, 8/7c, Freeform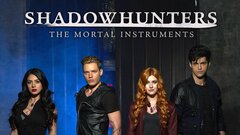 Powered by