How to Get Away With Murder: Viola Davis and TV's Most WTF Show Return
It's an unseasonably warm December afternoon in Los Angeles, but as cameras roll filming the February 12 episode of How to Get Away With Murder, a bitter chill fills the air. Huddled together on a suburban street, four law-school students nervously look on while cops search the two-story Victorian belonging to their professor, Annalise Keating (Viola Davis)—the very home where one of the group killed Annalise's husband, Sam (Tom Verica), as the others watched. But the bevy of boys in blue may be less of a threat to their freedom than the woman Annalise confronts outside her place.
"Get off my property!" barks the high-powered defense attorney. Hannah (Marcia Gay Harden)—a pivotal new character armed with a Chanel bag and plenty of righteous indignation aimed at Annalise—seems unfazed. "It's my legal right to stand on this sidewalk," she says, a self-satisfied smile tugging at her lips. "And I want to be here when they drag you out of the house in handcuffs."
Covering up a homicide won't be easy, even for the brilliantly resourceful Annalise Keating, when the show returns January 29. Then again, what else would you expect from the ABC thriller about a less-than-law-abiding attorney and the hyper-ambitious students—Wes (Alfred Enoch), Michaela (Aja Naomi King), Connor (Jack Falahee), Laurel (Karla Souza), and Asher (Matt McGorry)—who court trouble interning at her Philadelphia firm? With an average of nearly 16 million weekly viewers, Murder has become the season's buzziest new show, thanks to its killer mix of pretzel-plotted mystery, scandalous storylines, and some of the most provocative sex ever to hit broadcast TV. Exhibit A: Annalise's very pleasurable extramarital treat from cop boyfriend Nate (Billy Brown). Exhibit B: Conniving first-year law student Connor's same-sex seduction of an office underling to secure valuable information for a case.
Created by Pete Nowalk and executive produced by his mentor, Shonda Rhimes, the drama is a breakneck-paced roller coaster that the woman behind Thursday's other ABC hits, Scandal and Grey's Anatomy, is thrilled to have in her ShondaLand theme park. "I'll sit down to read a script and have moments where I have to call Pete and say, 'What you did on Page 8 is crazy! I wouldn't have thought to do that there,'" Rhimes says. "I love that he tells stories in a way that makes me lean forward and go, 'What's gonna happen next?'"
Fans have been asking that very question since Murder's midseason finale in November, when the show's central mystery—who killed Sam, Annalise's philandering psychology professor husband—was solved. Wes did it. In the foyer. With a Lady Justice statuette. The decision to have the upstanding student whack Sam to stop him from choking Wes's wrong-side-of-the-tracks girlfriend, Rebecca (Katie Findlay), was one Nowalk waffled on until the eleventh hour. "I was open to finding someone else," he says. (Quiet legal eagle Laurel and Annalise's icy associate Bonnie, played by Liza Weil, were other potential perpetrators.) "But Wes just felt very appropriate. He loves Rebecca and protected her, and I think that's brave. Dark, but brave."
The even bleaker twist? After learning her hubby of 20 years was dead, a chillingly calm Annalise told Wes not to be sorry for his actions. Still, Davis insists her character, who reported Sam missing to police, isn't heartless. "When the show returns, you'll definitely see an Annalise who's devastated by the loss," the actress says. "But while she's mourning, she's also at the cusp of having a come-to-Jesus moment about the path she's taking in life."
In fact, every major character will be irrevocably changed by Wes's deadly deed and the ensuing investigation that begins in the January 29 episode, titled "Hello, Raskolnikov"—a nod to the law-student protagonist of Dostoyevsky's Crime and Punishment, whose guilt over committing murder drives him to madness. As Annalise and her students give individual statements to police, "the tension we're dealing with is whether they crack and confess or turn on each other," Nowalk says. "To get away with this, they have to keep secrets. And they have to continue to do really bad things."
A former writer on Scandal, Grey's Anatomy, and Rhimes's now-shuttered Private Practice, Nowalk had long toyed with the idea of a series about corrupt law associates. But it wasn't until he decided to age down the characters, making them cutthroat classmates with a ruthless defense-attorney professor, that he finally zeroed in on the Murder plot. "It felt much more exciting," Nowalk says, "if they were young and impressionable and the professor could manipulate them." Exciting being the operative word. A fan of old-school legal thrillers like Presumed Innocent and Jagged Edge, Nowalk wanted his show "to feel salacious and juicy, like those murder trials we all get obsessed with in real life."
To ground the show, Nowalk knew he needed the right leading lady. Enter two-time Oscar nominee Davis, who was looking for the kind of flashy role that had eluded her in film. "I wanted something to bite into," says the 49-year-old actress, "something complicated that showed what I could do, other than the best friend and the maid."
While in Atlanta filming a movie, the Help star and the Los Angeles–based producers had their first conversation via speakerphone. "It was like the best blind date ever," says executive producer Betsy Beers. "Viola already had so much insight into the things that are most interesting about Annalise—her vulnerability and messiness."
Since signing on, Davis has grown increasingly involved in shaping her character, a collaboration Nowalk values. "I sometimes feel like she's Picasso, and I'm just handing her the paint," says the showrunner. He reports that the February 19 episode, which sheds light on Annalise's backstory, was born from the actress's ideas. And it was Davis who pitched arguably the drama's most powerful moment. In the fourth episode, entitled "Let's Get to Scooping," Annalise sits before her bedroom mirror wordlessly removing her makeup and sleek wig to reveal her natural, close-cropped curls. Davis, whose performance has been nominated for a Golden Globe and SAG Award, says that any sense of vanity was trumped by her desire to strip an often inscrutable character bare: "When I took this job, I felt like I could either do what's expected in TV when a character is 'sexy' and 'mysterious,' which is lose weight and make sure the makeup is always tight, or I could play a woman anchored in truth. And for me, a person that strong and emotionally detached wears a mask in public. I was interested in who she was when she took that mask off at night."
Nowalk has taken a decidedly bold approach to all of his characters' private lives. For one, whip-smart Connor has just as active and hot a love life as any straight character. "It's a sexy show," says Nowalk, who is openly gay, "and I wanted equal-opportunity sex for everyone."
While it's not uncommon to see love scenes involving same-sex couples on Rhimes's shows, it's still a rarity on broadcast TV overall—a fact Rhimes has little patience for. "It's insulting that people think we're being wild or pushing the envelope because of the people who happen to be doing the making out," she says. "The characters aren't doing anything you haven't seen. It's just that it's two men versus a man and woman that suddenly makes everyone think it's so shocking. And that's depressing."
For Falahee, the opportunity to play a groundbreaking character is one he never expected. Little more than a year ago, the Michigan native was paying the bills working for Lyft, a ride-sharing service for which drivers use their own cars. These days, people are flagging his Prius down for an entirely different reason. "I was at a stoplight the other day, singing to Beyoncé superloud, and someone in the car next to me yells, 'Hey, you're on that show—you're great!'" he recalls.
The rest of the young cast has seen life change in the wake of Murder's success, too. Souza, who'd previously worked largely in her native Mexico, is now recognized in the States, while King is often stopped at the grocery store by fans "wanting to know what's gonna happen next," she says, "and I say I'm as eager to find out as anyone else!" And even as his profile has grown, Enoch—a British actor who appeared in the Harry Potter films—has continued to stick to his routine of taking public transportation to set, which has made for some interesting interactions with fellow commuters. "I sat down next to this lady who looked at me and went, 'What are you doing on the bus?'"
The drama's upcoming twists will likely throw fans for a loop as well. In the midseason premiere, Annalise—with an assist by her loyal associate Frank (Charlie Weber)—goes to extreme lengths to get charges dropped against Rebecca, who stands accused of bumping off Lila Stangard, Sam's sorority-girl mistress. While Annalise, Bonnie, and the students all suspect Sam killed the coed, that's not necessarily the case. "You will get an answer to who did it this season," Nowalk promises. "We'll see Lila alive again [in flashbacks]. We'll see more of her murder night, and exactly where Sam was."
Two major guest stars also promise to make a vivid impression: Emmy winner Cicely Tyson is booked for a one-episode mystery role (might she be Annalise's mother?), and Oscar winner Harden is sticking around for a three-episode arc. "Hannah's a dog with a bone about finding the truth," says Harden, whose character shares decades of dysfunctional history with Annalise, "and yet she's presumptuous about what she thinks the truth is." Nowalk warns against presuming anything about the drama's top-secret two-hour season finale on February 26. The only guarantees? "It will be big," he allows. "It will be shocking. And it will be satisfying." Much like Murder itself.
How to Get Away with Murder, Midseason premiere Thursday, Jan. 29, 10/9c, ABC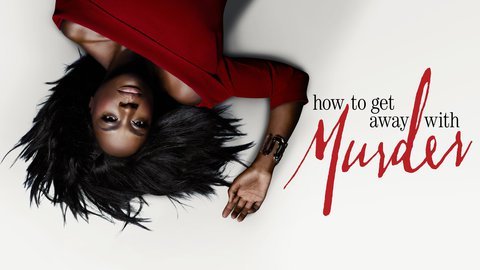 Powered by