Review: I Spy a Great Third Season of FX's The Americans
FX is helping get the overstuffed 2015 TV year off to a splendid start. Last week, Justified launched its so-far-terrific sixth and final season, fueled by a taut and entertaining endgame, one that involves the wry Kentucky marshal Raylan Givens (droll Timothy Olyphant) aiming to take down his childhood buddy-turned-criminal nemesis Boyd Crowder (the electrifying Walton Goggins) by using Boyd's jailbird fiancée Ava (the delectable Joelle Carter) as a most reluctant loose cannon of a confidential informant.
Dangerous games are an FX specialty, and if the intrigues of Justified have the warm kick of a shot of homegrown whiskey, the relentless suspense in the third season of the enthralling The Americans, premiering Wednesday, feels more like the cold slap of a Russian vodka pulled straight from the freezer. A chilly dread pervades this gripping melodrama of married Soviet spies Elizabeth and Philip Jennings (the remarkably chameleon-like Keri Russell and Matthew Rhys) who operate under the guise of an all-American family in the Reagan-era early 1980s.
This season, the juxtaposition of domestic banality with covert, often erotic peril has never been more unsettling. (A bone-crunching scene of body disposal in next week's second episode is almost unbearably graphic.) And now that their Moscow bosses from "The Centre" seek to recruit their idealistic teenage daughter Paige (Holly Taylor), the stakes are even higher within this family built on lies.
The CIA's involvement in the Russian/Afghanistan conflict and the death of Soviet leader Leonid Brezhnev provide real-life context to the Jennings' increasingly treacherous missions, where once again, we find ourselves rooting for the enemy not to be caught. There are several nail-biting encounters in the season's first episodes, and unlike in many spy thrillers, when anyone on either side of the chase takes a punch, the bruises—or, even more memorably, a toothache—don't instantly heal.
The real scars this season threaten to be emotional and familial, as Philip and Elizabeth heatedly debate the future of their daughter, while the guileless Paige continues to enthusiastically embrace Christianity, to her parents' chagrin and even dismay. "If you bring her into this, anything could happen," Philip warns their new handler and long-ago mentor Gabriel (Frank Langella, in a performance of avuncular sympathy with an undercurrent of chilling menace). Gabriel insists, "There is always a choice." But is there really in this dangerously clandestine world?
This conflict between Philip and Elizabeth is so intense you might start worrying about the future of their marriage—understandable, given the debris of broken families littered around them, including that of neighbor Stan Beeman (the poignantly understated Noah Emmerich), the FBI agent so distracted by his own misery he can't detect the elusive spies living right across the street.
When Stan drags his buddy Philip to a self-help EST seminar that his estranged wife swears by, it's both funny and pathetic (and oh so '80s)—but also jarring in its contrast to the rigid dogma spouted by hard-line loyalist Elizabeth to a handsome new recruit: "The production of too many useful things results in too many useless people."
A production as brilliantly riveting as The Americans is the opposite of useless. It's essential viewing.
The Americans, Third season premiere, Wednesday, Jan. 28, 10/9, FX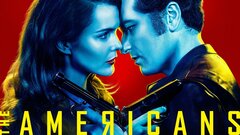 Powered by