The Americans Returns: Will the KGB Recruit a Kid Spy?
This season on the Reagan-era domestic drama–cum–espionage thriller, which returns Wednesday, 14-year-old Paige Jennings (Holly Taylor) could finally learn her parents' carefully constructed secret: Philip (Matthew Rhys) and Elizabeth (Keri Russell) Jennings are deep-cover Soviet spies. It's not her persistent snooping that could expose the truth, however. The couple's KGB bosses want them to recruit Paige for future use as an FBI or CIA mole. To press the importance of the matter, the organization asks Philip and Elizabeth's former trusted handler Gabriel (Frank Langella) to plead the KGB's case.
Elizabeth may not need much convincing, after all. As she said in the shocking Season 2 finale about bringing their social-activist daughter over to their cause: "Paige is looking for something in her life. Maybe this is it." Elizabeth is a true believer in a dying creed—and, says executive producer Joe Weisberg, a former CIA officer, "we are sympathetic to that. It's easy to raise kids in this capitalistic society with no real motivation, nothing to care about."
But Philip, having already warned a senior KGB bureaucrat to leave his daughter alone, will do almost anything to prevent Paige's recruitment from happening. "Philip and Elizabeth may love each other, but how can they deal with such a deep philosophical conflict?" Weisberg says. "That is going to be very much a driver of the season."
Far from the domestic front, Elizabeth has other kids on her mind. Thanks to U.S. aid to local rebels, the Soviets are getting their butts whipped in Afghanistan, "and she sees her job as helping to keep her boys there from getting killed," Weisberg says. "Philip may have misgivings, but like Elizabeth, he's a soldier. His nation is at war, and in the end, he'll do his job."
Seemingly a casualty of the ongoing Cold War when she was arrested as a traitor to the Soviet Union last season, former KGB operative Nina Sergeevna (Annet Mahendru) has somehow survived and will be back on the show, though fellow executive producer Joel Fields warns, "she's not out of the woods yet."
As for her two former lovers: In the aftermath of Nina's downfall, ambitious KGB bureaucrat Oleg Burov (Costa Ronin) "is struggling with what happened," Fields says, while FBI agent Stan Beeman (Noah Emmerich)—who nearly committed treason for her—"has to find a way to bounce back and regain his center," says Weisberg. We bet his good friend and neighbor Philip Jennings would have some dandy advice.
The Americans returns Wednesday, January 28, 10/9c, FX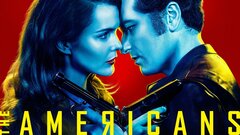 Powered by