What We'll Miss From Galavant (And What We Won't)
Last night marked the end for Galavant, ABC's eight-episode medieval fairy tale musical featuring a campy batch of jokes surrounded by catchy musical moments. The finale saw King Richard (Timothy Omundson) and his brother go head-to-head for the throne, nearly everyone—including Galavant (Joshua Sasse) and Princess Isabella (Karen David)—escaping imprisonment, and a humongous cliffhanger leaving many of the characters split up (Plus, an Optimum commercial freezing televisions on the east coast).
The finale was Galavant's last attempt to get picked up for Season 2 despite critical ambivalence and sinking ratings. (The series opened to 7.42 million viewers on January 4, but dropped to 3.42 million near the end of its run.) Season 1 quickly threw predictability out the window, resulting in confusing plot holes and nonsensical directions; in order to get that Season 2 order, Galavant is going to have to learn to walk the line between unpredictable and unbelievable. The show needs to focus on simply being fun and understandable. No more, and no less.
But although there were plenty of cringe-worthy moments, there's also a lot about Galavant we'll miss now that Season 1 has taken its bow. Here, a look at the parts we won't want to forget… and the parts we probably won't miss.
What We'll Miss
The Guest Stars
Visitors, particularly Ricky Gervais (Derek) as zany wizard Xanax and Weird Al as a musical monk, made for some of the most exciting reasons to watch. (They weren't always perfect, however: John Stamos jousting was just plain weird and Anthony Stewart Head was completely wasted as Galavant's father in last night's finale, though we're just glad he was there at all.)
The Music
…Sometimes. With over 20 original songs in just eight episodes, you can't expect every song to soar. But the combined effort of Disney music-making gurus Alan Menken and Glenn Slater, who also both served as executive producers, vastly improved the level of the show, and in some ways, the music was the star. Some of the most memorable songs? The Jester's (Ben Presley) shining moment "Comedy Gold," and "If I Could Share My Life With You" the cutesy duet between Chef Vincenzo (Darren Evans) and Gwynne (Downton Abbey's Sophie McShera).
Mallory Jansen
As the show's true baddie Madalena, Jansen made a quick transformation from the fair maiden stereotype to yelling at everyone in the castle, especially hubby King Richard. With the most entertaining performance of the series, including the self-centered solo, "No One But You," it was clear Madalena was pulling all the strings from the second she donned her crown. Plus, she always had us asking, 'What's she going to do next?'
King Richard and Galavant's Bro-ship
Though it was short-lived, the two's drunken "We're Off on a Secret Mission" song was the biggest laugh-out-loud moment of the finale. As strange as the King befriending his former foe (from whom he had stolen Madelena in the first place) might seem, it actually became one of the more believable plot twists once explained by Galavant (because they've both been "scorned by the same woman"). Plus, it's King Richard—he'll fall for nearly everything. However, it didn't look like Gal was all too happy about his new pal in the show's final scene at sea. But for those few minutes, it sure was great. If there is a Season 2, seeing these two play off of each other, wherever they end up, will be something to look forward to.
Chef Vincenzo and Gwynne's Love Story
The cook and the handmaiden's tumultuous relationship was just the romantic subplot Galavant needed to retain a sweet edge, especially since Galavant and Princess Isabella's relationship had turned stale by halfway through the season.
Gareth's Love for King Richard
In the finale, Gareth (Vinnie Jones) sends Richard away to save his life. Seeing Richard's body guard and childhood bestie finally go soft is an awww-worthy moment. We know the gruff caretaker cares for him, despite constantly turning down Richard's hugs, lullaby requests, etc.—why else would he tell Galavant how best to take care of him? But it's hard not to consider his motivations after the season finale put Gareth in the throne next to Madalena.
What We Won't Miss
The Twists and the Turns
The road to Valencia, and the storyline once they arrived, was a little too windy, especially in the final hour. Gareth taking up the throne alongside Madalena was completely unbelievable, and a desperate attempt from the writers to keep viewers interested enough for a second round. Even before those final moments, the show was riddled with nonsensical turns and too many plot holes. Galavant should not have been given a huge beer belly, if it was going to disappear after his first day of training. Did they know something we don't about nutrition?
Pretty Much Every Other Character
King Richard's quickly forgettable older brother Kingsley (Rutger Hauer), Sid the squire (Luke Youngblood), who had one throwaway episode to himself, and the Court Jester, who had a few great moments but otherwise just sat around, could all easily have been discarded. Sid and the Jester bring this up in the series finale when they discuss how little help they've been (which, we know, but thanks for pointing out your show's flaws, I guess). Even Princess Isabella, who started off as a strong female character, was written into a weak subplot and locked away in a creepy, padded doll house in the series finale. The Princess from the first few episodes never would have allowed that. It all goes back to the constant twists and turns—the characters without much to do are just getting tossed by the wayside.
The Puns
Most were just… no. They got less groan-worthy along the way as the show found it's footing, but the first few episode's uncomfortable pop culture puns, or even worse, the overbearing sexual ones, are hard to forget.
That Theme Song
Just kidding, it will be stuck in our heads forever. Thanks, Menken and Slater for repeating your catchiest song ad nauseam.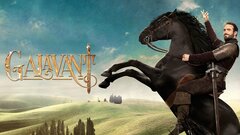 Powered by