'Game of Thrones: The Musical!' Has Arrived and Here's Where You Can See It
Game of Thrones fans, if you're Hollywood-bound this spring, have 35 bucks in your pocket and a solid sense of humor, a musical experience like none other awaits. OK, so we haven't actually seen Game of Thrones: The Musical! – A Song of Nice Satire, but the mere fact that it's from the creators of Lost: The Musical and Once Upon a Time: The Rock Opera—yeah, we haven't seen those either—bodes well for it being, well, like two others, tops. Since it's about our favorite show, we'll bump it to the top of the pile.
See Also
'Thrones' composer Ramin Djawadi has turned the HBO pop-culture phenom's musical score into a live stage show that will travel to 24 U.S. cities.
First things first. It's not an extended version of the much-loved Coldplay/GoT cast collaboration for Red Nose Day a couple years back. Here's that, for the sake of killing time and a happy memory.
Instead, Game of Thrones: The Musical! – A Song of Nice Satire is a self-proclaimed unauthorized parody that delivers a saucy version of Ned Stark's tragic saga, using rotating rosters of actors—the House of Lannister cast and the House of Targaryen cast, because of course—to get the job done.
"We have 12 original songs spanning the greatest moments the original series has to offer," said Erin Stegeman, one of the show's musical directors, in a press release. "From tap dancing direwolves to a catchy Dothraki love song [listen to it below] and even a hip-hop inspired Tyrion solo number, our show will have audiences on their feet with toes tapping and hands clapping… provided they still have both of their hands."
Er, sorry Jamie Lannister. We know it's not nice to kick a guy while he's so damn far down.
Sound like more than you can resist — especially as the wait for Season 7 drags on? Then you are officially summoned to Hollywood's Macha Theatre in West Hollywood, where the show will begin a 40-performance, 10-weekend run on Friday, Feb 17. For more information, including how to purchase tickets, visit www.gotthemusical.com.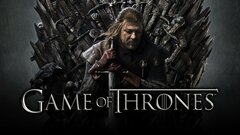 Powered by