Matt Lauer Opens Up About 20 Years at 'Today,' His Cohosts, and New Coworker Megyn Kelly
During a break between the 9am Today show sign-off and the 10am West Coast news update, Matt Lauer settles into his office in New York's Rockefeller Center, where photos of Muhammad Ali and Bruce Springsteen share space with family portraits. It's a few days after the lavish on-air toasts to the morning show's 65th anniversary and Lauer's 20th as a coanchor. That's not all there is to celebrate: Today just scored its 57th week as the No. 1 morning show among viewers 25–54 and its largest lead over Good Morning America in more than five years in that coveted demo.
As for 59-year-old Lauer, he still beams as he talks about landing his "dream job." He speaks of his team over the years as "a family," recalling the time he and Al Roker "trekked through a blizzard" to visit coanchor Katie Couric when she gave birth to her second daughter, and doing the same—minus the snow—for current cohost Savannah Guthrie. "The most surprising thing viewers don't know is how loyal a friend he is," says Roker.
Guthrie agrees. "His quiet kindness and humanity are palpable," she says, going on to explain his staying power: "It's Matt's extraordinary combination of natural talent and dogged work ethic. He has one of the quickest, sharpest minds I have ever encountered. Plus, he is genuinely hilarious."
Here, Lauer gets candid about his longtime success and what's next.
Congratulations on your double anniversary! What's been the biggest change in your two decades on Today?
The biggest change is this [holds up his smartphone]. For many years, when the Today show came on at 7am, that was the first chance most people had to learn what happened overnight and what information would be crucial to their day. Now they can get news any time they want it. What they can't get is our take on it, putting it in context and advancing the story.
How are you dealing with a POTUS who announces things with tweets throughout the day and even in the middle of the night?
I love it! Breaking news is what we do best. We also feel more invigorated when news breaks on our show or during our show.
So would you describe the show as a news show that's entertaining or an entertainment show with news?
We are a news show. But our variety is our strength. This sounds corny, but our mission is to bring a smile to viewers at least once a day and not just fill the show with terrible things.
You and Savannah have great chemistry. And you've had that kind of vibe with other cohosts too. How can you tell if you'll click?
You can tell pretty quickly. One of the first things you look for is a similar sense of humor. Second is a curiosity about the same things. Also, Savannah and I both love politics, which we take with a grain of salt. And we also watch reality shows with the same irony.
RELATED: 65 Years of Today: The Morning Shows Most Memorable Moments
In a few words, sum up your cohosts.
Savannah gets it. Meredith Vieira warms my heart. Katie Couric is kind of my soulmate. We make each other laugh. That's what got me my job here. When I was a local NBC anchor, I did early morning teasers with Bryant Gumbel and Katie. I usually found a way to have fun with Katie. Jeff Zucker [then Today's executive producer] noticed our chemistry and he called me in to fill in for a vacationing Bryant.
It was recently announced that Megyn Kelly is coming to NBC News with a talk show that will replace either Today's third or fourth hour. Do you welcome Kelly into the morning family?
Absolutely. I've seen her on morning shows. She's multitalented and would fit right in. She's a remarkable broadcaster and journalist, a real force.
You've described this as your dream job. It must have been nerve-racking to sit in that anchor's chair that first day.
Actually, one of the scariest moments for me was Bryant's last day. They ran tapes of his time on the show. I was so intimidated thinking about how I would have to fill his shoes.
There have been so many big moments, but what was your most unforgettable on the show?
9/11 happening while we were on the air is the most significant thing that has ever happened in my career. After the first plane hit, Katie and I were on the phone with a producer who was downtown, and we watched the billowing smoke and suddenly she said, "Oh my God, here comes another," and that's the shot that knocked the wind out of everyone—the fireball out of that second tower. We knew then it was terrorism. And a world-changer.
For many people, you guys became a comforting and informative presence that terrible day.
We were on the air for many hours after the towers fell, trying to verify all the reports that were coming in. That was the challenge. When I finally watched the broadcast years later, I was really happy with how we, and Tom Brokaw, who came in to help, handled it.
The "Where in the World Is Matt Lauer?" segments were a great antidote to all the strife. Why did you stop doing those?
It was fun, but sometimes we were on a different continent every day and it kicked the you-know-what out of me. I still get more attention for those segments than anything else I've ever done. In my last year here, I might do one more as a swan song.
Do you ever think about leaving?
This is still my dream job. I haven't found anything in broadcasting or journalism that I am as well-suited for. I've joked that I could host ESPN's old show Fly Fishing the World. I will tell you that I do have a time in mind when I'll leave.
RELATED: Today by the Numbers
Any hints?
I'll only say that at the first hint I might not love it, I will go. It would be a crime to stay.
What do you do with the rest of your day once you are off the air?
I'm not finished in the morning, as people think. I'm usually in the studio until around 10:30. Then we have meetings, where we all suggest ideas. I work with producers on scripts for future segments, sit in the editing room. I leave around midday, go to the gym, then take a serious nap. When I wake up, I listen to music and read for fun. I'm reading Revenge of the Analog, about people who buck the digital system, which describes me a bit. Al gave it to me. I go out for early dinners and try to be in bed at 9, because I get up at 4:10am—to be exact—to get to the studio at 4:35 or 4:40 every day.
Phew! How do you relax?
I can relax on a golf course—even when I'm playing badly.
Today, Weekdays, 7am, NBC, @TODAYshow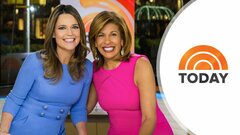 Today
where to stream
Powered by