'Today' by the Numbers
2017 marks the 65th year on the air for America's favorite morning show. It is also Matt Lauer's 20th anniversary with the program.
Here are a few more important numbers:
10 Number of Olympics Today has broadcast from.
280,445 Miles Matt Lauer has traveled in his segment "Where in the World Is Matt Lauer?"
5 Number of times Al Roker says, "Here's what's happening in your neck of the woods" each day.
5th Place as the longest-running American TV series.
7 Number of women who have been named a "Today Girl," including Florence Henderson.
10 months. Chimpanzee J. Fred Muggs's age when he joined Today in 1953. (He was mascot for four years.)
19 Number of TV Guide Magazine Today covers.
$3,861 Cost of a 60-second commercial on Today in 1953.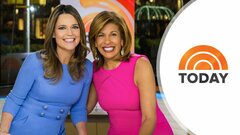 Today
where to stream
Powered by