'How to Get Away with Murder': Can We Believe Frank's Confession? (RECAP)
After Frank's (Charlie Weber) confession to killing Wes (Alfred Enoch), it's easy to see there is more to the story. After all this is How to Get Away with Murder. So we get a few more pieces of this latest puzzle when Frank is questioned by detectives. He tells them he knocked Wes out with chloroform in the house, cut the gas line and had the burner going on the stove. The reason he gave for offing Wes was that he couldn't handle Laurel being pregnant with Wes' baby. Although he claims he didn't know Laurel (Karla Souza) would be in the house, Frank says he couldn't take that he hurt her.
The last thing A.D.A. Atwood wants is to let Frank take the fall because it goes against the district attorney's argument that Annalise (Viola Davis) acted alone. Nate goes to the hospital to see Laurel. Even though she doesn't answer when asked if Frank knew she was pregnant, he knew he didn't. She calls Bonnie after he leaves and reveals she didn't even know she was pregnant. Bonnie's strategy now is to mount the case against Frank in hopes of freeing Annalise. She calls in the reinforcements in Connor, Michaela and Asher. She wants Oliver to hack the D.A.'s office.
RELATED: Can How to Get Away with Murder Go on Without Wes?
Problem is he knows about Sam's death, and probably won't be in the mood to help. Michaela (Aja Naomi King) goes into Annalise-mode on Oliver and ultimately gets him to do the job. He finds they have a ton of dirt on Annalise like DNA results identifying a the body of a Jane Doe found in the woods as Rebecca, as well as her connection to other ghosts of Christmas past like Emily Sinclair, Lila Stangard, Sam and the Hapstall's. They are out for blood. Bonnie tries to convince Annalise to put everything on Frank. When they meet with Atwood to try to exchange information they have for a deal the rival digs at Annalise to get her to react. It works, Atwood says no deal.
Bonnie goes to Laurel next. Laurel tells the detectives she saw Frank the last week and told him she was pregnant, and that it was Wes'. She says doctors told her drugs would wear off and she would start to remember things. She confirms seeing Frank before the explosion at the house in the basement and then running out of a storm door. The developments were enough to arrest Frank, but is charged as a co-conspirator.
The last flashback shows Wes exiting Frank's car. Frank calls Bonnie saying Wes knows Rebecca didn't run away and is dead. Bonnie gives him directive to follow Wes, but that's all we get this week. The D.A. couldn't locate Wes' phone. They have surveillance from the police station that shows Wes going in Frank's car. However, there is still all that time to fill between then and the fire. Nate goes back to the potential of Wes being dead before the fire. Then there is Wes' ex who is a little too suspicious about everything, listening in on Laurel's conversation in the hospital. It's the innocent ones you got to be on the lookout for.
RELATED: Sign up for TV Insider's How to Get Away with Murder Newsletter
Annalise continued her version of Orange is the New Black where her guardian angel inmate friend helps get her acquainted to prison life. She is in shambles at the start of the episode, but symbolically cuts her hair with a blade she initially rejected from the inmate. There are some flashes of strength for Annalise as those around her try to pick her apart whether it's fellow inmates or Atwood. That or she has come to the realization she might be in there for a while. She does get a visit from the university president Hargrove, who meets with Michaela, Connor and Asher earlier in the day. Michaela actually stands up for Annalise and shows the president her impact on her students.
My favorite scene in the episode has to be Asher, Michaela and Connor sitting with Laurel in the hospital room watching Golden Girls. Out of the group, I guess Connor would be the group's Blanche. Next up Annalise's mama, played by the scene-stealing Cicely Tyson, comes back into the picture.
How to Get Away with Murder returns Thursdays, 10/9c, ABC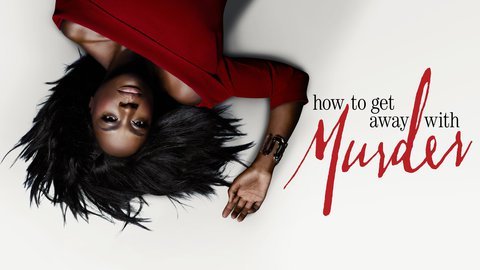 Powered by