Fran Drescher Slams 'Greedy' AMPTP in Fiery Strike Speech (VIDEO)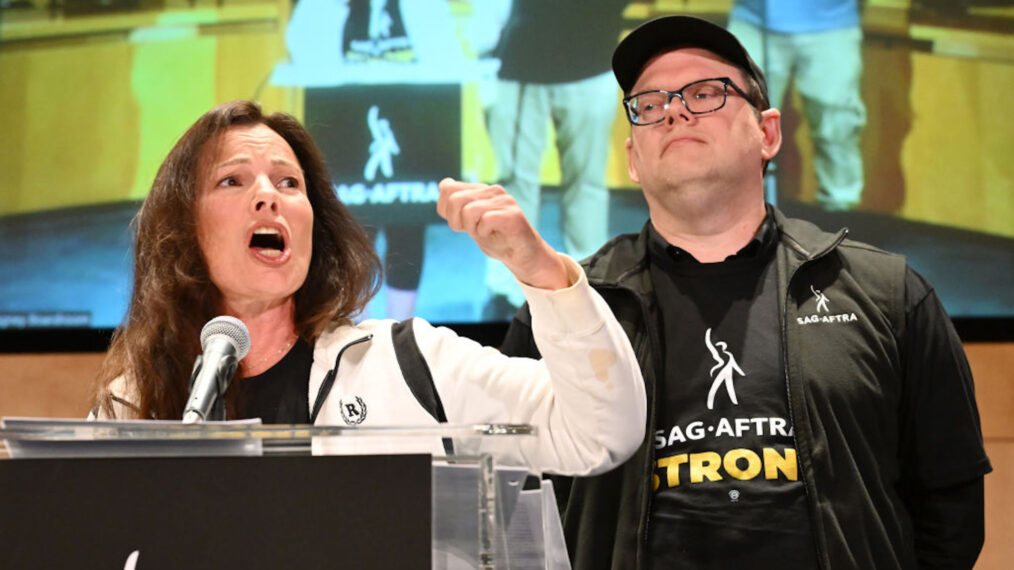 Fran Drescher has had enough. The Nanny alum, currently the President of the SAG-AFTRA actors union, raked the Alliance of Motion Picture and Television Producers (AMPTP) across the coals while speaking during the SAG-AFTRA strike authorization press conference on Thursday, July 13, calling the body representing Hollywood studios and streamers "greedy" people exhibiting "disgusting" disdain for the labor of actors.
Standing alongside National Executive Director and Chief Negotiator Duncan Crabtree-Ireland, Drescher slammed the AMPTP.
"You have to wake up and smell the coffee!" she powerfully declared. "We are labor, and we stand tall. We demand respect and to be honored for our contribution. You share the wealth because you cannot exist without us." See the full video of the fiery speech below.
Crabtree-Ireland announced the strike at the top of the press conference, saying the strike order was determined earlier that morning.
"Because the AMPTP remains unwilling to offer a fair deal on key issues essential to protecting the livelihoods of working actors and performers, SAG-AFTRA's national board unanimously voted to issue a strike order against the studios and streamers," he said, later noting that, "Last night we told the AMPTP directly across the table we're ready, willing, and able to return to the negotiating table whenever they're ready to do so. Their response to us was that they would be ready to talk whenever we would talk in a civilized manner not being on strike."
"We told them that it's not uncivilized for people to go on strike," he continued. "It's a moral right, it's a human right, and it's a legal right of our members to collectively bargain, to organize, and to go on strike if needed to defend their rights, and that we will be happy to approach them and negotiate with them whenever they're ready to do so. We were then later informed that it would probably be a while."
"This is a very seminal hour for us," said Drescher in her remarks. "I went [into negotiations] in earnest thinking that we would be able to avert a strike. The gravity of this move is not lost on me or our negotiating committee or our board members who have voted unanimously to proceed with a strike. It's a very serious thing that impacts thousands if not millions of people all across this country and around the world, not only members of this union but people who work in other industries that service the people that work in this industry. And so, it came with great sadness that we came to this crossroads, but we had no choice."
"We are the victims here. We are being victimized by a very greedy entity," she went on. "I am shocked by the way the people we have been business with are treating us. I cannot believe it, quite frankly, how far apart we are on so many things. How they plead poverty, that they're losing money left and right when giving hundreds and millions of dollars to their CEOs. It is disgusting. Shame on them. They stand on the wrong side of history at this very moment. We stand in solidarity in unprecedented unity. Our union and our sister union and the unions around the world are standing by us as well as other labor unions because at some point, the jig is up."
The strike authorization and press conference took place on July 13, the day before Bastille Day — the French holiday commemorating the start of the French Revolution in 1789. Drescher, intentionally or not, used the symbolism to her advantage when saying, "Eventually, the people break down the gates of Versailles, and then it's over! And we're at that moment right now."
As of midnight on the morning of Friday, July 14, no actors will be working in Hollywood. They join the striking WGA writers, now more than 70 days into their work stoppage.