'Manifest': Josh Dallas Reveals What Was Cut From Series Finale… Could There Be More?!
[Warning: The below contains MAJOR spoilers for all of Manifest.]
The man who started it all for the 828ers — "You've all been missing, presumed dead, for five and a half years," Vance (Daryl Edwards) told them in the pilot — seemingly teed up a potential continuation for their story in the Manifest series finale, streaming June 2 on Netflix.
After the 828ers got back on the plane and survived their judgments, they found themselves disembarking in New York on April 7, 2013, as they would have if their flight hadn't disappeared. And as Ben (Josh Dallas) left the airport with Grace (Athena Karkanis), Vance walked by with a new puzzle: This time when the plane landed, 11 passengers had vanished from Flight 828. So does Ben track down Vance after that?
Dallas sure hopes so. "I love that dynamic so much, and I love Daryl Edwards more than life itself," he tells TV Insider.
He then adds that there was a teaser scene — he was not in it — that was filmed but didn't make the final cut of the finale. "It sort of opens the story a little bit — or a lot — for further journeys to happen. I don't know what's happening with that," he admits. "I don't know if it's ever going to happen, but if there was ever a Manifest sequel and [show creator] Jeff Rake wanted to write words to put in my dumb mouth, I would be there 100 percent anytime, anywhere he says. And I would hope that it would be with Daryl."
As for what happens in that scene, "It may or may not take place on the plane and it may or may not include some very pivotal characters to Flight 828," he teases. "It definitely had a character in it that is connected to every single one of those passengers on the plane … and who maybe disappeared at some point in a past season."
Oh, we have to see that!
Manifest, Season 4 Part 2, Streaming Now, Netflix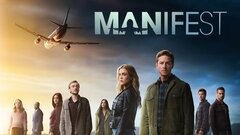 Powered by