'The Other Two' Brings Heartbreak & a Painful, Necessary Conversation (RECAP)
[Warning: The below contains MAJOR spoilers for The Other Two Season 3 Episode 5, "Cary and Brooke Go to an AIDS Play."]
Let us say how much we need the humor of every person groaning (but not wanting to complain) and settling in (with pillows, blankets, laptops!) as the 8 Gay Men With AIDS: A Poem in Many Hours play takes up their lives for days in the latest The Other Two. Because with the relationships? Well, there's a lot of heartbreak.
The episode begins with Pat (Molly Shannon) and Streeter (Ken Marino) informing Cary (Drew Tarver) and Brooke (Heléne Yorke) of their breakup; they're at different places in their lives, with her fame making any sort of normalcy impossible. Streeter, unsurprisingly, starts talking about custody and promises Cary and Brooke they have rooms at his place.
Then, while Lance (Josh Segarra) sleeps during the play, Brooke, despite insisting she's out of the industry, spends her time trying to help Shuli (Wanda Sykes) and Streeter figure out how to manage Chase (Case Walker) dating a "normie" (after starting the episode with Kiernan Shipka). When Lance finds them, Brooke tries to make excuses (including that she's having sex with Shuli), insisting she does good now. He leaves.
At home, the two finally say what they've probably needed for a long time (but that doesn't make it any less painful). Brooke admits she doesn't like trees, and Lance encourages her to find something she likes. She did, she explains: being a manager. But with everyone trying to find something more meaningful, she felt judged — by him, recalling when he said that her job could be dumb sometimes. He argues that he was just agreeing with her and she's really just judging herself. While he sees what he's been doing as supportive, she thinks he should've stopped her since he knows her better than anyone. But he doesn't think it's his job to make her be honest with him.
Instead, Lance calls Brooke out on making his decision to do something that makes him happy (becoming a nurse) about her. He wants a partner, too, someone to show up for him and support him. She needs to talk to him if she has a problem. "We're engaged. I'm your ride-or-die. But maybe that's the problem," he says. "You know I'm not going anywhere, so it gives you permission to just treat me like s**t, to lie to me, to test me, to always be in your head instead of just listening to me or be a good partner to me and I deserve that, B, because I'm a good f**king person."
And "if we can't talk, I don't know how we do this," he admits. "Maybe we don't do this," she decides, and when he agrees, she tells him, "go f**k yourself" before walking out.
Brooke ends up at Streeter's, and yes, he does have a room for her. "It's over. I can't believe it's actually over," she cries. (Streeter, of course, thinks she's sad about his and Pat's breakup.)
This one hurt.
The Other Two, Thursdays, Max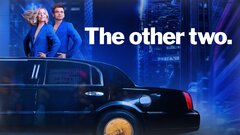 Powered by