'The Other Two': Heléne Yorke & Drew Tarver Tackle Celebrity PR Crises (VIDEO)
Considering everything that Brooke (Heléne Yorke) and Cary (Drew Tarver) have had to deal with on The Other Two so far, they should have a handle on how to handle some (fun) celebrity PR crises… right?
That's what TV Insider decided to find out when chatting with Yorke and Tarver about Season 3, which does see each of their characters having some form of success after living in the shadows of their famous brother Chase (Case Walker) and mother Pat (Molly Shannon). For example, Drew's movie Night Nurse finally came out, and Brooke is taking steps to figuring out what it is she exactly wants to do with her life outside of the industry.
So what would Brooke and Cary do if one of them went viral for sending a thirsty DM to another celebrity? "It seems like something they would do," Yorke admits, with Tarver adding, "You'd spin it as a positive."
What if one of them promoted a failed music festival? "You could just say, 'We wanted it to be bad. This was purposeful. We wanted to be one of the worst times. It was like a stunt to see what we could pull off,'" Tarver suggests.
And if one of them wore the same thing as someone else on the red carpet? Well, the siblings did just that in the Season 3 premiere, for Cary's Night Nurse premiere, and it's not a big deal.
And what if one of them was caught photoshopping their photos on social media? They could just fall back on what they know. "Denial is kind of a theme with these two characters of not letting the truth into their brains until it's too late and they've really boxed themselves in," Tarver explains.
Watch the full video above for more from Yorke and Tarver.
The Other Two, Thursdays, HBO Max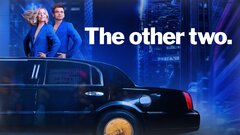 Powered by