'Walker' Renewed for Shortened Season 4 at The CW
There might be a lot up in the air right now when it comes to The CW's future programming, but now we know Jared Padalecki's series isn't going anywhere.
The CW has renewed Walker for a 13-episode fourth season to air as part of the 2023-24 broadcast season. Its third season, currently airing Thursdays at 8/7c, is the network's most-watched linear show this season in total viewers.
"Over the past three seasons, Walker has become the top performing series on The CW with a passionate fanbase and a fantastic cast and creative team led by Jared Padalecki, who has now been a leading man on the network for over twenty years," Brad Schwartz, President of Entertainment, The CW Network, said in a statement. "As we build a great big new future for The CW, we are thrilled to be staying in business with our partners at CBS Studios, and we cannot wait to have Walker back on the schedule."
Added Padalecki, who also serves as an executive producer, "I'm so excited and grateful to continue the Walker legacy for another season alongside our partners at CBS Studios and The CW. We can't wait to make Season 4 bigger and better than ever and to lasso even more fans into the Walker family. Let's ride!"
The drama is a reimagining of the long-running series Walker, Texas Ranger. It follows Padalecki's Cordell Walker, a widower, and father of two with his own moral code, who, when the series began in 2021, returned home to Austin, TX, after being undercover for two years, only to discover there's harder work to be done at home. This renewal news comes just two days before the Season 3 finale on May 11, in which friends and family will be gathering to celebrate a very special event.
CBS Studios produce Walker Season 3 in association with Rideback. Anna Fricke serves as showrunner and executive produces with Dan Lin, Lindsey Liberatore, Padalecki, Steve Robin, and Russel Friend.
Other than Walker, All American is the only other CW show to be renewed for the 2023-24 season. The Flash and Riverdale are currently airing their final seasons. Nancy Drew will be ending with its fourth season (premiering on May 31). The CW has yet to announce the fates of All American: Homecoming (wrapped Season 2 in March), Gotham Knights (in Season 1), Kung Fu (in Season 3), Superman & Lois (in Season 3), Walker Independence (wrapped Season 1 in March), and The Winchesters (wrapped Season 1 in March).
Walker, Season 3 Finale, Thursday, May 11, 8/7c, The CW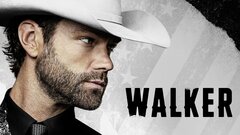 Walker
where to stream
Powered by