'S.W.A.T.' Un-Canceled: Shemar Moore Drama Renewed for Final Season
CBS has listened to the fans, following the reaction to one of its long-running dramas being canceled after six seasons just three days ago: The network has now renewed S.W.A.T. for a seventh and final season, consisting of 13 episodes. Series star Shemar Moore will be an executive producer on the final season.
"We have listened to our viewers and their outpouring of passion for S.W.A.T. and we have reached an agreement to renew it for a final season of 13 episodes to air during the 2023-2024 broadcast year. S.W.A.T. has aired for six seasons on CBS and garnered a devoted following," Amy Reisenbach, President, CBS Entertainment, and Katherine Pope, President, Sony Pictures Television Studios said in a joint statement. "We are pleased that we found a way to bring it back and give closure to the show's storylines and characters, which audiences deserve. Once again, we appreciate the talents and efforts of the cast, writers, producers and crew and everyone who has contributed to the success of S.W.A.T. We look forward to its return next season."
Following CBS' announcement of its cancellation, Moore posted a lengthy video on Instagram calling out the network. I'm a lot a bit sad," he said of the news. "It makes no sense. Look up the articles, read the articles. We are the best show on Friday nights at 8 o'clock for CBS. The last two years we have been killing it, us and the fire show [Fire Country]. … We've done nothing wrong. We did everything that was asked for."
Furthermore, he'd been under the impression that they'd get to continue telling their stories for at least one more season to wrap up the story.
"But to abruptly get told that you're canceled when you led us to believe last week and the week before and the week before that, that we would have some semblance of a season 7 to at least say goodbye, if not continue, and to abruptly be told, 'You're done,'" he said, adding he thought CBS would "wake up and realize they made a mistake" and that Sony Pictures Television Studios would "do their math and realize that this is not the right move."
Well, it seems like he was right.
S.W.A.T., Fridays, 8/7c, CBS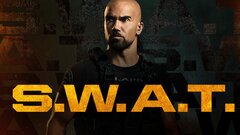 Powered by