Tyra Banks Reacts to News Julianne Hough Will Replace Her on 'Dancing With The Stars'
Tyra Banks has said she thinks Julianne Hough is "the perfect choice" as her replacement as a host on Dancing With The Stars.
In a new interview with Us Weekly, the supermodel said, "The businesswoman in me sees how Julianne is great on multiple levels. She's a professional dancer. She is the sister of Derek [Hough], a DWTS multi-champion, who is now a stellar judge."
She added, "It's going to be a family affair in that ballroom which people will love to watch. And she has so much personality and strong opinions backed by expertise. She's a perfect choice! She's gonna crush it!"
Banks hosted the show for three seasons and announced her decision to leave the show on March 16. "I feel it's really time for me to focus on my business and my entrepreneurship, and also producing more TV — but behind the scenes," she explained. "I think it's time to graduate from the dance floor to the stock market floor … from the ballroom to the boardroom." Banks continued, "I'm an entrepreneur at heart. … I think my heart, my soul, is into my business, it's also into producing new TV. But, I really, really want to focus on my business, and you can't do that hosting a show."
Banks was tapped to cohost DWTS in 2020 after Tom Bergeron and Erin Andrews left the show.
ABC announced Hough as the replacement host of Banks for the upcoming 32nd season. She will co-host alongside Alfonso Ribeiro, with her older brother Derek remaining as a judge alongside Carrie Ann Inaba and Bruno Tonioli.
Hough began as a dancer for the DWTS live tour before officially becoming a pro dancer for the series from 2007 to 2009. Afterward, she returned as a judge for six seasons from 2014 to 2021.
Dancing With the Stars, Season 32 Premiere, TBD, Disney+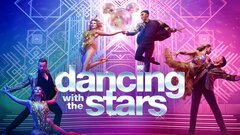 Powered by