'So Help Me Todd': Benjamin Hollingsworth Talks 'Code Black' Reunion With Marcia Gay Harden
"Both of us were so overwhelmed with emotion," Benjamin Hollingsworth says about reuniting with Marcia Gay Harden on the legal dramedy So Help Me Todd. "I love Marcia so much. Honestly, seeing her again, all the memories of Code Black came rushing back. There might have been some tears."
He guest stars in the April 13 episode as Dr. Ross Woods, a colleague of ER doc Allison (Madeline Wise). When Ross loses a patient during routine surgery, Allison's mother, high-powered attorney Margaret Wright (Harden), takes on the son of the woman who died as a client. Watch an exclusive sneak peek of Margaret and Ross meeting and Allison intervening as a result of the case above.
Hollingsworth calls Dr. Woods a "far cry" from Dr. Mario Savetti, the character he played on the 2015–18 hospital drama. The difference? "Less bravado and a lot less tattoos." And while he can't say much, he does tease, "love is in the air."
While Hollingsworth and Harden do have scenes together, a lot of his interactions came with Wise. They "really clicked," he shares. "She's got this way of delivering her lines in a dry but vulnerable manner it's very unique, funny and 100 percent authentic."
Sharing the screen with Harden "was sort of a bizarre déjà vu," even as he observed his old friend showing off some rarely used skills. "Watching Marcia flex her comedic chops was incredible," he says. "I had no idea she was so funny." No objections here!
So Help Me Todd, Thursdays, 9/8c, CBS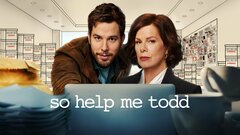 Powered by