'So Help Me Todd' Renewed for Season 2 at CBS
CBS is sticking with So Help Me Todd as the network announced the hit drama has been renewed for Season 2 which will run during the 2023-2024 season.
Since the show's September 2022 debut, So Help Me Todd has become Thursday's top new series and has averaged 6.3 million viewers per episode, expanding to 7.4 million with live plus 35-day multiplatform viewing. So Help Me Todd stars Marcia Gay Harden and Skylar Astin as Margaret and Todd Wright, a mother and son team who investigate crimes.
Their professional partnership begins when her law firm hires Todd as an in-house investigator. Described as the black sheep of the Wright family, Todd is laid back, quick thinking, and an excellent former private detective who fell on hard times when his interpretation of the law resulted in him having his license revoked.
"So Help Me Todd has charmed viewers with the incomparable chemistry between Marcia Gay Harden and Skylar Astin," said Amy Reisenbach, president of CBS Entertainment. "With the series' unique blend of captivating legal drama, laugh-out-loud humor, and intriguing family dysfunction, it's no wonder the audience continues to grow. I am delighted that these two inimitable characters and their entertaining banter will extend into a second season."
Along with the Academy Award-winning Harden and Astin, So Help Me Todd features Madeline Wise, Tristen J. Winger, Inga Schlingmann, and Rosa Arredondo. Meanwhile, the show from CBS Studios is executive produced by Scott Prendergast, Elizabeth Klaviter, Dr. Phil McGraw, Stuart Gillard, Jay McGraw, and Julia Eisenman.
Continue to tune into So Help Me Todd's first season airing Thursdays on CBS and live and on demand on Paramount+.
So Help Me Todd, Thursdays, 9/8c, CBS and Paramount+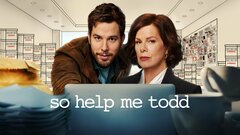 Powered by