'That's My Jam': John Stamos Serenades Taraji P. Henson, Quinta Brunson & More in First Look (VIDEO)
The latest episode of NBC's That's My Jam is getting a visit from one of TV's most beloved uncles, as Full House alum John Stamos joins host Jimmy Fallon and fellow competitors Quinta Brunson, Craig Robinson, and Taraji P. Henson for the musical game show.
In an exclusive first look above, he's stepping into the spotlight for a round of Nonsense Karaoke, which takes a classic song and presents the performer with a completely different set of lyrics. This time, the song randomly selected is Village People's "Y.M.C.A.," which Stamos approaches with plenty of confidence.
Standing on the sidelines, Stamos' teammate Quinta Brunson cheers him on as their opponents Robinson and Henson also look on. Meanwhile, Fallon can't help but get swept up in the familiar song, despite the major shift in lyrics as he joins Stamos front and center on the stage.
Set to air Tuesday, March 28, this latest episode of That's My Jam is a great way to see your favorite TV stars have a good time together while singing some of the catchiest tunes.
For those less familiar with That's My Jam, the hour-long music and comedy variety game show was drawn from the inspiration of popular Tonight Show games. Each episode features two teams of two celebrity players who are competing for charity. Among the challenges they face are musical, dance, and trivia-based games interspersed with musical performances.
As seen above, the musical performances are in full swing, but see it for yourself. Check out the clip, and don't miss the latest episode of That's My Jam when it airs on NBC.
That's My Jam, Season 2, New Episodes, Tuesdays, 10/9c, NBC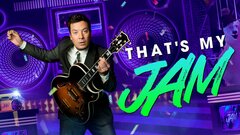 Powered by