Jerry Seinfeld Signs Exclusive Deal With Netflix
If Jerry Seinfeld wants to get coffee with a fellow comedian, he'll have to do so on Netflix. The 62-year-old comedian has exclusively signed with Netflix, bringing all future and past episodes of the (former) Crackle series Comedians in Cars Getting Coffee to the streaming network. Seinfeld will also film two stand-up comedy specials, the first of which will arrive later this year.
"When I first started thinking about Comedians in Cars Getting Coffee, the entire Netflix business model consisted of mailing out DVDs in envelopes. I love that we are now joining together, both at very different points," said Seinfeld in a statement. "I am also very excited to be working with Ted Sarandos at Netflix, a guy and a place that not only have the same enthusiasm for the art of stand up comedy as I do, but the most amazing technology platform to deliver it in a way that has never existed before. I am really quite charged up to be moving there."
RELATED: Seinfeld Writer Apologizes if Donald Trump Is Imitating George Costanza's The Opposite Episode
Twenty-four new episodes of Comedians in Cars Getting Coffee, which features Seinfeld and his friends going out for a cup of coffee while sharing stories in a classic car, will rollout in installments on Netflix starting this year. The comedy series has been nominated for three Emmy Awards.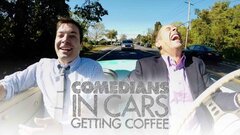 Powered by