'NCIS: LA' Sets 2-Part Series Finale: Details on Callen and Anna's Wedding & More
CBS is giving NCIS: Los Angeles the farewell it deserves by making it an event.
The network has announced that the series finale will air in two parts, on Sunday, May 14 at 10/9c, and Sunday, May 21 at 9/8c. After the last episode, an Entertainment Tonight special, A Salute to NCIS: Los Angeles, will air at 10/9c.
"Wrapping up a series is always bittersweet. We were blessed to have 14 seasons together, so bringing it to a satisfying end was extremely challenging after so many years. Fortunately, CBS was gracious enough to give us an extra episode in order to send off our characters in a way befitting their stories that hopefully the fans find both satisfying and hopeful," said showrunner and executive producer R. Scott Gemmill in a statement.
In the first part of the finale, "New Beginnings," on May 14, CBS teases, "When an ATF agent goes missing, the agency seeks help from the NCIS team to investigate stolen military-grade weapons and locate the agent. Also, Callen (Chris O'Donnell) and Anna (Bar Paly) continue to plan their wedding, Rountree's (Caleb Castille) sister interviews for medical school and Sam (LL Cool J) encourages his father to take part in the drug trial."
Then, in "New Beginnings, Part 2," on May 21, "The NCIS team continues the case with ATF and the stolen military-grade weapons. Also, Callen and Anna decide on an impromptu wedding." This will be the series' 322nd episode.
While they'd approached a few past season finales as potential series' ends (not knowing the show's fate at the time), "we knew it was the end this time," Gemmill told TV Insider at the wrap party. "[So], we went a little further than we might have [in terms of showing] what's happening in their lives."
After the series finale, Entertainment Tonight's Kevin Frazier will host, from the iconic Paramount Studios where the drama filmed for 14 years, the special. It will feature footage and interviews with cast members from the past 14 years, including current exclusive interviews, favorite memories, and behind-the-scenes moments from the Entertainment Tonight vault.
NCIS: LA premiered on September 22, 2009 (after a two-part backdoor pilot on NCIS). It is still averaging 6.08 million viewers and is the top scripted program in its competitive time period. It stars O'Donnell, LL Cool J, Linda Hunt, Daniela Ruah, Eric Christian Olsen, Medalion Rahimi, Castille, and Gerald McRaney. Gemmill, John P. Kousakis, Frank Military, Kyle Harimoto, Andrew Bartels, and Shane Brennan, who created the series, all serve as executive producers.
NCIS: Los Angeles, 2-Part Series Finale, Sundays, May 14 and 21, CBS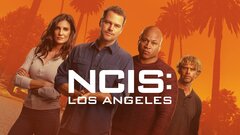 Powered by