TV Insider's Top 25 of the Week (March 6-12): 2023 Oscars, 'The Last of Us' & More
Bookmark this page because TV Insider is providing you with a handy weekly list. With so much on TV — including new and standout episodes in primetime, streaming premieres, movies, and specials — we're hoping to make it a bit easier for you to keep track of everything you don't want to miss. Every Monday, on our Shows page, we list the top 25 shows that excite us for the week ahead. Read on for what to watch the week of March 6-12.
It's time to find out who will be honored as the best in film at the 2023 Oscars (March 12 on ABC) and between the awards handed out and the performances, it's our pick to top our list this week.
It may be hard to believe, but the first season of The Last of Us (#6 on our list last week) is ending (March 12 on HBO and HBO Max), with Joel (Pedro Pascal) and Ellie (Bella Ramsey) back on the road (and hey, at least we already know there will be more). Also on HBO and HBO Max this week is the return of Perry Mason (March 6) for its second season, in which the titular character is "doubting his own talent, and [is having] a crisis of faith about the judicial system itself," as Matthew Rhys told TV Insider.
Over on streaming, History of the World: Part II (March 6-9 on Hulu), the follow-up sequel series to Mel Brooks' film, features a star-studded cast in sketches taking us through different periods of human history. On Paramount+, legends and global MVPs from the franchise begin competing in The Challenge: World Championship (March 8) to be named Challenge World Champion.
9-1-1 is back (March 6 on FOX), with a shocking spring premiere and Bobby (Peter Krause) and Athena's (Angela Bassett) investigation into the rehab facility near where his sponsor's body was found. And kicking off the same night on NBC is the latest season of The Voice; it's not only Chance the Rapper and Niall Horan's first as coaches, but also Blake Shelton's last.
Returning to the list from last week are The Mandalorian (was #1), Daisy Jones & The Six (was #2), and Survivor (was #3).
Which other shows make our Top 25 of the week? And where do all of these shows, movies, and specials fall in our must-see rankings? Click here to find out, then sound off in the comments with your buzziest shows of the week.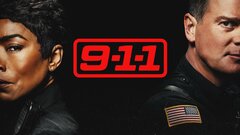 9-1-1
where to stream