'The Challenge: World Championship' Cast: Which Legends Are Joining Global MVPs?
The Challenge's first-ever global tournament is pairing up franchise legends with the MVPs from the USA, Australia, Argentina, and UK versions, and Paramount+ has unveiled the cast list.
In The Challenge: World Championship, premiering Wednesday, March 8 with two episodes in the U.S. and Canada (March 9 in the U.K., Latin America, and Australia, and March 15 in Germany, Switzerland, Austria, Italy, and France), each global MVP is paired with a "Challenge" Legend. This notable veteran from previous seasons of the MTV series will serve as their partner to form the most epic teams in the history of the franchise. Together, they'll work towards the most difficult challenge of them all: the brutal finale worth $500,000.
Joining longtime host TJ Lavin to kick off the premiere episode are global hosts Brihony Dawson (Australia), Mark Wright (U.K.), and Marley Biyendolo (Argentina). (MTV will also air the premiere episode on Wednesday, March 8 at 8/7c.) Get a peek at some of the players in action in the clip above.
The Challenge Legends in World Championship are (stats include wins across all series in the franchise except for Ride or Dies, the finale of which airs February 15): Amber Borzotra (one win), Darrell Taylor (five wins), Jodi Weatherton (two wins), Johnny "Bananas" DeVenanzio (eight wins), Jonna Stephens (two wins), Jordan Wiseley (three wins), Kaycee Clark (one win), KellyAnne Judd (zero wins), Nelson Thomas (zero wins), Nia Moore (zero wins), Theo Campbell (zero wins), Tori Deal (zero wins), Wes Bergmann (three wins), and Yes Duffy (two wins).
The Global MVPs are: Ben Driebergen (The Challenge: USA), Danny McCray (The Challenge: USA winner), Justine Ndiba (The Challenge: USA finalist), Sarah Lacina (The Challenge: USA winner), Emily Seebohm (The Challenge: Australia), Grant Crapp (The Challenge: Australia), Kiki Morris (The Challenge: Australia winner), and Troy Cullen (The Challenge: Australia winner). The cast members competing from The Challenge: Argentina and The Challenge: UK will be announced after each series' finale. (USA and Australia are currently available to stream on Paramount+. You'll be able to watch UK on Saturday, February 25 and Argentina on Wednesday, April 5.)
"I love the idea of this global tournament where they're gonna take the winners from all these different franchises, and I believe they're gonna include some MTV talent as well," DeVenanzio told TV Insider in October. "So yeah, I think it's gonna be a really interesting concept, and I'm fascinated to see how that plays out. And if I'm lucky enough, I would love to be a part of it as well."
The Challenge: World Championship, Series Premiere, Wednesday, March 8, Paramount+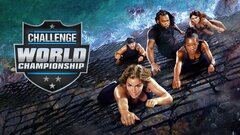 Powered by