Saddle Up for 'Ride': Nancy Travis & Cast Introduce Their New Western Family Drama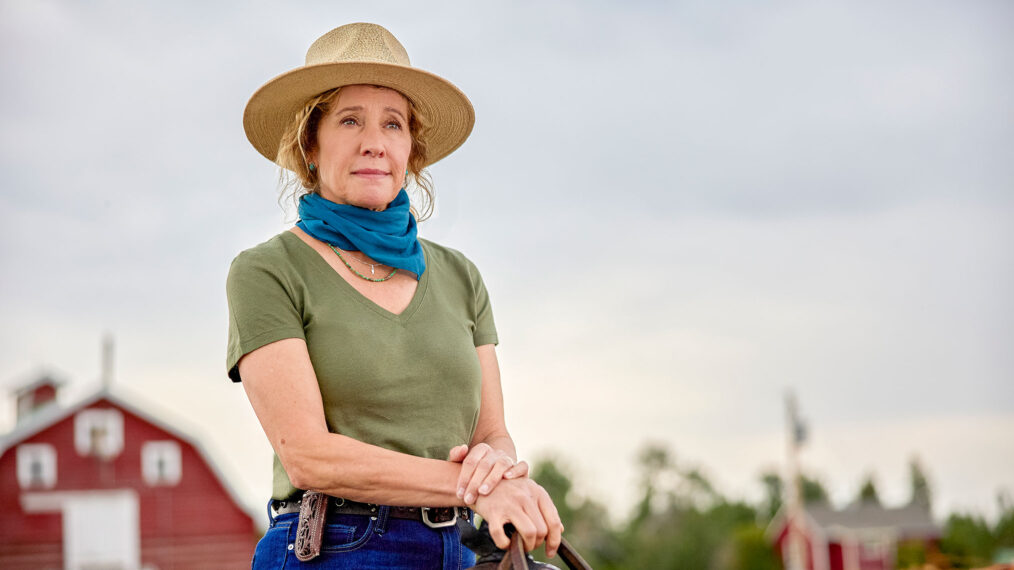 Death, deception and forbidden romance, right out of the gate? Hallmark Channel's new rodeo drama Ride quickly ropes you in, so hold on to your horses!
Like a Yellowstone with kinder locals and way less cussin', this addictive tale centers on a Colorado ranching dynasty with deep roots in the rodeo circuit and close ties that bind them to their bustling stomping grounds.
Co-creators Rebecca Boss and husband Chris Masi (who serve as showrunners with Sherri Cooper) had long been nursing an idea for a series that would capture their rural upbringings. (In her case, home was southeastern New Mexico.) While the couple worked on Fox's glitzier Star and Our Kind of People, "[We] really wanted to write a show about families, for families," affirms Boss.
And what a brood they've hitched their wagon to. The McMurrays read like the first family of fictional Canyon, Colorado. Eldest son Austin (Marcus Rosner) is a rodeo champion wed to former trick rider Missy (Riverdale's Tiera Skovbye); middle heartbreaker Cash (Beau Mirchoff of Good Trouble) has been off serving in the military; and the youngest, Tuff (Hallmark movie vet Jake Foy), is a rider and country singer whose interest in men doesn't make him any less of a cowboy.
Keeping them in check is Isabel, played by Nancy Travis. The tenacious matriarch "has seen a lot of tragedy and is passionate about supporting her family," the Last Man Standing alum offers. "When Isabel opens her heart to someone, that love is steadfast. She will fight like a lioness to protect them." This mama-bear mentality extends to Missy's best friend Valeria (Sara Garcia), as well as her devoted daughter-in-law. "Isabel loves [Missy] like her own…they have a connection beyond words."
They also have a link to Boss' past. Having spent her youth "going to 4-H dances on weekends," the executive producer calls the series her way of honoring the women she grew up admiring. "They can get up at 4am and do chores, raise a family, and still find time to be kind and take care of others." She also sees Ride as a way of marking the "double-edged sword of living in a small town where everyone knows your business in a bad way, and also in a good way."
Change of Fortune
In the series opener, the good folks of Canyon are given an awful lot to talk about, thanks to the surprise return of prodigal son Cash. But before anyone can get the goods on his homecoming, a tragedy in the ring involving Austin leaves Missy a widow and the McMurray empire faced with an uncertain future.
Flashing forward a year, the action resumes with Isabel saddled with foreclosure threats, Tuff sidelined by guilt over not being able to save Austin that fateful night, and Valeria mysteriously back from months off the grid, having agreed to do a clandestine favor for Austin right before his death. "We carry that out much of the season," previews Masi of Austin's whispered request prior to his final ride. "One of the things we really wanted to explore is what happens when secrets get too large and what it takes to really keep a family together."
At the same time, various investors try to capitalize on Isabel's loss of her star rider, driving Cash to reenter the arena—with an unexpected trainer. And he may be poised to fill his late brother's boots in a more romantic way as well.
"Cash and Missy have always been close, but now without Austin they're forced to face deeper feelings they harbor for each other," teases Skovbye of the sparks between the two. "It's complicated, but at the root of it all lies love and admiration."
Ride, Series Premiere, Sunday, March 26, 9/8c, Hallmark Channel
This is an abbreviated version of TV Guide Magazine's Ride cover story. For more inside scoop on what's coming to TV and streaming in the weeks ahead, pick up the issue, on newsstands Thursday, March 9.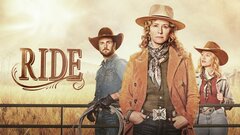 Ride
where to stream
Powered by