Hilary Duff Admits It 'Took a Second to Wrap My Brain Around' John Corbett as 'HIMYF' Love Interest
If you saw that John Corbett, who played Hilary Duff's music teacher in the 2004 film Raise Your Voice, is now playing her character's love interest in How I Met Your Father, and it made you pause for a second, you're not the only one.
"Working with John again was great. This was obviously in a very different capacity, so that took a little second to just wrap my brain around," Duff admits to TV Insider. "But it was fun working with John, and he's a larger than life kind of guy, and he really brought that to the role. I was grateful. He's got a lot of ideas."
The casting was revealed in the Season 2 trailer, which also showed Sophie's friends getting on her case a bit about dating an older man … without realizing that Corbett's character is that person.
"I loved the storyline between John and I and that Sophie is taking a risk with an older man," Duff shares. As for how the two cross paths, "she finds herself at this party that she's going to basically get free drinks and free food and have fun with her friend. Of course, she falls into this wild moment in time where she meets this guy who's kind of sweeping her off her feet, and she just leans into it. And I love that Sophie is capable of that."
She continues, "something insane happens, and she starts to panic and destroys the relationship, which is common for her." After all, unless the Hulu comedy is adding him to the list of candidates to be The Father — Jesse (Christopher Lowell), Sid (Suraj Sharma), Charlie (Tom Ainsley), and Ian (Daniel Augustin) — we know it won't last.
Still, expect a "funny" storyline, says Duff, and Lowell adds that it's "a very unique one and a really fun one. It's really fun to watch it play out in these episodes. I think you'll really enjoy it."
For now, we'll just have to wait for what sounds like will be plenty of laughs when we watch Duff's onscreen reunion with Corbett.
How I Met Your Father, Tuesdays, Hulu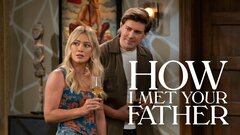 Powered by