'Bosch': 2 Spinoff Series Are in the Works at Amazon
Amazon is gearing up to expand its Bosch universe once again with two more new shows in the works at Prime Video.
According to The Hollywood Reporter, Amazon is working on two in-house studio spinoffs, one revolving around Jamie Hector's Detective Jerry Edgar and another following LAPD Detective Renee Ballard, a character from executive producer and author Michael Connelly's novels who has yet to be cast.
The untitled projects are the third and fourth Bosch-related series from Amazon. The flagship ran for seven seasons from 2014 to 2021 on Prime Video and the follow-up series Bosch: Legacy, which streams on Amazon Freevee, premiered in 2022. Both Hector and Titus Welliver feature in Legacy, which will launch its second season on Freevee.
At this time, it's unclear whether the two new shows in development will stream on Prime Video or Amazon Freevee. Bosch's expansion isn't the only one happening at Amazon as The Terminal List was recently renewed for Season 2 and is exploring a spinoff led by Taylor Kitsch. The franchise expansion of Bosch comes fresh off the heels of Showtime's plans to explore the worlds of Dexter and Billions in various spinoffs.
According to blurbs shared by THR, the J. Edgar show will follow Bosch's former partner, who is tapped for an undercover FBI mission in Little Haiti, Miami. Forced to balance his new life with the gritty underbelly of the city, he'll be chased by his mysterious past. Currently attached as executive producers are Connelly, Larry Andries, Henrik Bastin, Melissa Aouate, with Jasmine Russ a co-executive producer.
Meanwhile, the Detective Ballard series sees her tasked with running the LAPD's new cold case division. Beyond investigating unsolved crimes, Renee is dedicated to bringing credibility to the department of justice. Having learned from retired ally Harry Bosch, Renee approaches situations with a unique outlook and viewers will follow along as she grapples with the politics of being a woman on a rise in the LAPD. The project will be executive produced by Connelly, Michael Alaimo, Kendall Sherwood, Bastin, and Aouate and co-executive produced by Russ.
Bosch, Streaming now, Prime Video
Bosch: Legacy, Streaming now, Amazon Freevee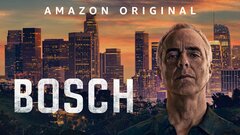 Bosch
where to stream
Powered by