FX Sets Premiere Dates for 'Feud', 'The Americans' and 'Archer'
Get out your calendars and set your DVRs. FX has officially set the premiere date for its gloriously dishy limited-series anthology, Feud.
On Sunday, March 5 at 10/9/c, Feud: Bette and Joan will go behind the scenes of "Whatever Happened to Baby Jane?" to tell one of the most iconic Hollywood tales of rivalry, revenge and killer costumes. Starring Oscar winners Susan Sarandon as Bette Davis and Jessica Lange as Joan Crawford, Feud reunites Lange with executive producer Ryan Murphy, who first brought her to FX with American Horror Story. The campy, often-heartbreaking and always fascinating Feud also features Lange's AHS costar Kathy Bates as Joan Blondell, Judy Davis as gossip maven Hedda Hopper, Catherine Zeta-Jones as Olivia DeHaviland, Alfred Molina as Jane director Robert Aldrich and Mad Men's Kiernan Shipka as Bette Davis' rebellious teen daughter.
RELATED: ABC Announces Midseason Premiere Dates for Dirty Dancing, When We Rise and More
It was also announced today that The Americans would kick off its fifth season with a move to Tuesdays starting on March 7 at 10/9c. The penultimate season of the critically acclaimed spy drama will find married KGB operatives Phillip (Mathhew Rhys) and Elizabeth (Keri Russell) dealing with deepening paranoia, perils and more wigs as the Cold War reaches a fever pitch.
Archer will make its previously announced move to FXX for Season 8 on Wednesday April 5 at 10/9c. And because this is one of TV's most creative and courageous animated comedies, of course the gang is bringing a crazy change along to their new home: This season, the Emmy-nominated hit will recast Sterling Archer from a 1970's detective into a hardboiled P.I. who is on the hunt for his partner's killer in 1947 Los Angeles. Think L.A. Confidential with more splooshes. It's just like the old gypsy woman said!
Feud: Bette and Joan, series premiere, Sunday, March 5, 10/9c
The Americans, season premiere, Tuesday, March 7, 10/9c
Archer, season premiere, Wednesday, April 5, 10/9c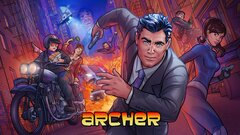 Archer
where to stream